Glencore Rallies Most Ever as Analysts Say It's Not Like Lehman
by
Stock soared as much as 72 percent in Hong Kong trading

Agriculture business could be worth $10 billion: Bernstein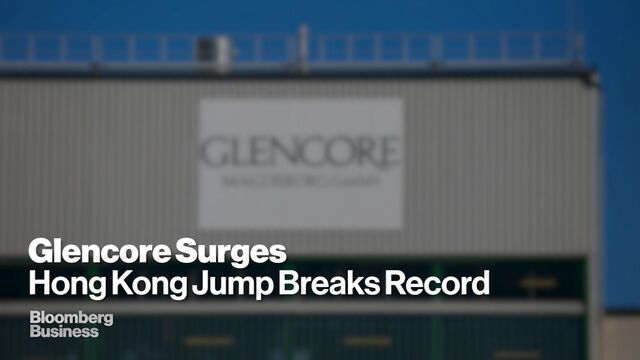 Glencore Plc shares advanced the most ever and the cost to insure its debt against default dropped as analysts at Sanford C. Bernstein & Co. said concerns around the company's solvency are unjustified.
The stock rose a record 21 percent to close at 115 pence in London, exceeding the level before the selloff on Sept. 28. The bonds rose and five-year credit-default swaps dropped 50 basis points to 651 basis points, according to data from S&P Capital IQ's CMA. In Hong Kong, the stock soared as much as 72 percent. The company released a statement saying it wasn't aware of any reasons for the move.

Glencore, one of the world's biggest commodity traders, has recovered losses since last Monday's 29 percent plunge, sparked by concern the stock could be worthless if metal prices keep sliding. The shares snapped back last week after the company released a statement saying its business is "robust" and it has secure access to funding. Analysts including Citigroup Inc. had called the selloff unjustified and recommended buying the shares.
"The belief that Glencore is having a 'Lehman moment' seems unfounded," Paul Gait, an analyst at Bernstein, wrote in a report dated Monday. "While the leverage is clearly of concern, it is not anywhere near an immediate existential threat to the company – it is an issue that needs to be managed, and that is exactly what the company is doing."

Glencore doesn't need to go to the bond market until at least 2017 and the company has immediate access to about $13 billion in cash liquidity, according to Bernstein. A slump in commodities is not necessarily negative for traders like Glencore because, while freight and shipping businesses will decline, there will be more demand for storage, Gait wrote.
He said the agriculture business could be worth $10 billion and demand is high for such products.
Glencore's 1.25 billion euros ($1.4 billion) of 1.25 percent bonds due March 2021 rose 2.5 cents on the euro to 76.9 cents, according to data compiled by Bloomberg. The notes reached a record low of 68.9 cents on Sept. 28, the data show.
Investors drew comparisons to Lehman Brothers Holdings Inc. and Glencore last week after the stock tumbled on worries that the company isn't cutting its debt load quick enough. Investec Plc wrote in a research report that there was little value for shareholders should low raw-material prices persist and traders sought upfront payments to insure Glencore's debt for the first time since 2009.
Ivan Glasenberg
The company stepped in on Sept. 29 to reassure investors, saying it has secure access to funding. As the stock started rebounding, Chief Executive Officer Ivan Glasenberg told staff that the company "will emerge even stronger" and its plan to curb debt is sufficient, according to a Sept. 29 memo e-mailed to staff and seen by Bloomberg News.
The shares ended the week with a 2.3 percent retreat. Glencore has still lost 61 percent in 2015.
Glencore is in the middle of a restructuring to withstand lower commodity prices and bolster its finances. It has stopped paying a dividend, sold $2.5 billion in new shares and is in the process of selling assets, such as a stake in its agriculture unit and future gold and silver production, according to people familiar with the matter.
Market Value
At its height in 2014, Glencore was worth more than $85 billion after its $29 billion all-share takeover of Xstrata Plc, then the world's biggest coal exporter. Now, the market value has shrunk to about $25 billion as investors fled the business, which carries more debt than its rivals to fund its trading operations.
Glencore is the world's biggest exporter of power-station coal, with more than 30 mines in Australia, Colombia and South Africa and is among the top three agricultural exporters in Russia, the European Union, Canada and Australia. The company controls more than 150 mining and metallurgical, oil production and agricultural assets and employs about 180,000 people.
Peter Grauer, the chairman of Bloomberg LP, the parent of Bloomberg News, is a senior independent non-executive director at Glencore.
Before it's here, it's on the Bloomberg Terminal.
LEARN MORE