Glencore CEO Skips Talking About Shares to Focus on Copper
by
CEO Glasenberg sees `distortions' impacting the copper market

Company's shares soared by 21% Monday, most since 2011 IPO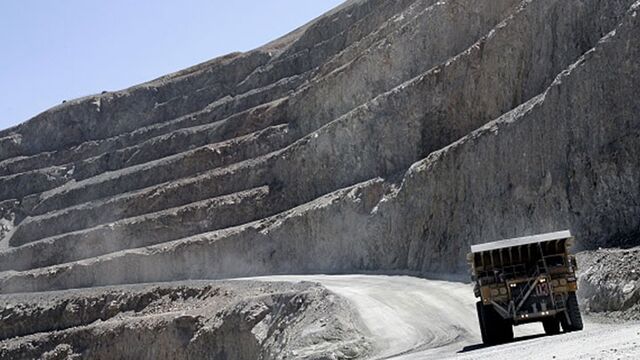 In his first public appearance after one of the worst weeks in Glencore Plc's history, Ivan Glasenberg wanted to talk about copper.
Glasenberg, part of a six-person panel for a conference organized by the Financial Times, spoke on Monday about the outlook for the metal and how prices have fallen excessively, a speech like ones he's given many times in the past. What he didn't talk about is what's on the minds of anyone following the $23 billion commodities trader: what happened to the stock last week.

Even though Glencore shares have rebounded above the level before last week's plunge and other measures of market stress are easing, the selloff is still fresh in the minds of investors. Analysts at Sanford C. Bernstein & Co. published a note today naming banks with the greatest exposure to commodity traders, citing requests from clients as concern spreads about the industry's debt load.
The market turmoil wasn't part of the conversation on Monday as Glasenberg chose to focus on the copper price and how it doesn't reflect supply and demand for the metal. He spoke, along with the Central Bank of Nigeria Governor Godwin Emefiele, at a seminar called "Managing the Commodity Cycle" at the ballroom of the Claridge's Hotel in London's Mayfair district.
"It's clear that there's distortions," Glasenberg said. "How big they are we don't know, but eventually the fundamentals will prevail."
A similar comparison could be made to the company's stock. Two hours before the speech, Glencore had soared as much 72 percent in Hong Kong, leading the company to issue a statement that it wasn't aware of any reasons for the move. In London, the shares were briefly halted in the morning because of volatility. They closed up 21 percent to close at 115 pence, the biggest gain since its 2011 initial public offering.

The bonds rose and five-year credit-default swaps dropped 50 basis points to 651 basis points, according to data from S&P Capital IQ's CMA.
Glencore's 1.25 billion euros ($1.4 billion) of 1.25 percent bonds due March 2021 rose 2.5 cents on the euro to 76.9 cents, according to data compiled by Bloomberg. The notes reached a record low of 68.9 cents on Sept. 28, the data show.
The company sank a record 29 percent on Sept. 29 on concern the company isn't cutting its debt load quick enough. The shares snapped back last week after the company released a statement saying its business is "robust" and it has secure access to funding.
While the company has pledged to reduce its debt by $10 billion through asset sales and a share sale, questions remain about whether it will be enough if commodity prices keep sliding. Last month, Glencore said it would cut copper production at mines in the Democratic Republic of Congo and Zambia that account for about 2 percent of global supply. Prices for the metal are near the lowest in six years as China's economic slowdown erodes demand.
"If you are not making money, I believe you should take production out and reduce the supply," Glasenberg, who's the biggest Glencore shareholder with 8.4 percent of the stock, according to data compiled by Bloomberg.
One thing that should support copper prices is the decline in inventories, Glasenberg said. Stockpiles in warehouses tracked by exchanges in London, Shanghai and New York have fallen to the lowest since August. The amount of metal held in storage globally amounts to 3.8 weeks of consumption and will fall to 3 weeks next year, Citigroup Inc. said in a report last month.
"We've seen massive destocking," Glasenberg said. "You're sitting on three weeks of copper stock. What does that tell you? That's the lowest inventory I've seen in copper stocks for many years."
Peter Grauer, the chairman of Bloomberg LP, the parent of Bloomberg News, is a senior independent non-executive director at Glencore.
Before it's here, it's on the Bloomberg Terminal.
LEARN MORE