Hong Kong Charges Former Leader Donald Tsang for Misconduct
Jasmine Wang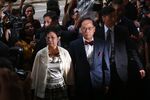 Donald Tsang, who completed his tenure as Hong Kong's No. 1 official in 2012, was charged with two counts of misconduct in public office, the anti-corruption bureau said.
One charge alleges that Tsang failed to disclose his negotiations to rent a property from a major shareholder of Wave Media Ltd., while the company was applying for licenses, the Independent Commission Against Corruption said Monday in a statement. The other charge relates to his nomination of an architect for "honours and awards," without disclosing he had employed the person, it said.
Tsang, 70, is the city's highest-ranking official to face charges by the anti-corruption bureau, intensifying scrutiny of the ties between government officials and business interests in the former British colony. Thousands of protesters marched through the city for two days demanding Tsang's resignation in March 2012, as news of the investigation broke.
"Over the past three and a half years, I have assisted fully with the investigations by the Independent Commission Against Corruption," Tsang said in a statement. "My conscience is clear. I have every confidence that the court will exonerate me after its proceedings."
Bail Posted
Tsang was released after posting HK$100,000 ($12,900) bail and said that he had a "clear conscience" as he left the Hong Kong court. Tsang will next appear in court in the case on Nov. 13.
Public confidence in Hong Kong's government officials have been shaken in the past four years amid a series of scandals.
In December, Hong Kong courts convicted Rafael Hui, the city's former chief secretary, on five charges, including conspiracy to accept bribes. Henry Tang, Tsang's deputy, saw his bid to take over as the city's leader derailed in 2012 after he admitted to knowledge of a luxury basement built illegally by his wife.
While the ICAC also investigated other complaints against Tsang, there was insufficient evidence to proceed on them, the Department of Justice said in a a separate statement.
Before it's here, it's on the Bloomberg Terminal.
LEARN MORE