Five Things Everyone Will Be Talking About Today
Weekend is over, time to get caught up here.
by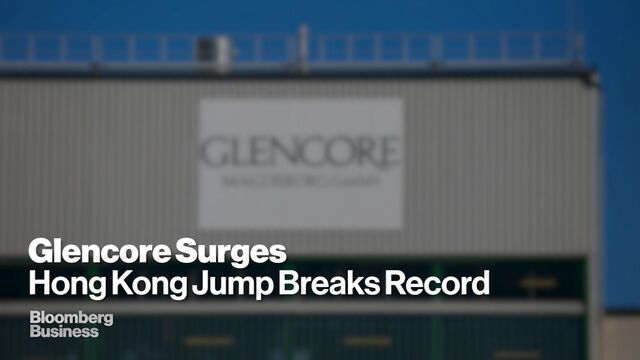 European PMIs show growth is easing, Glencore shares go on a wild ride and American Apparel files for bankruptcy protection. Here are some of the things people in markets are talking about today.
European PMIs
A Purchasing Managers' Index for manufacturing and services in the Euro-area fell to 53.6 in September from 54.3 in August Markit Economics said in a report published this morning. The preliminary reading for September had shown a smaller drop to 53.9. In the U.K. an index of services activity dropped to its lowest level since April 2013, easing to 53.3 from 55.6 in August. A Bloomberg survey of economists had shown an expectation for a rise to 56.0. Markit Economics will publish a PMI for the U.S. at 9:45 a.m. ET this morning.
Glencore's wild ride
Glencore stock listed in Hong Kong jumped as much as 72 percent overnight after reports that the company is in talks with potential buyers for its agriculture business and a weekend report that the company would listen to offers for the entire company. The company's stock was trading 7.3 percent higher at 102 pence at 10:30 a.m. in London. 
American Apparel files for bankruptcy
American Apparel Inc., the clothing chain that has posted losses every year since 2010, filed for bankruptcy protection saying more than $200 million of bonds will be exchanged for stock as part of the pre-arranged Chapter 11 restructuring. Under the accord, creditors will also provide enough financing to fund ongoing operations. 
Potash drops $8.8 billion bid
Shares in K+S AG plunged as much as 24 percent after Potash Corp. of Saskatchewan Inc. withdrew its €7.85 billion ($8.8 billion) bid for the German fertilizer and salt supplier. Potash Corp. cited significant declines in global commodity and equity markets as well as a lack of engagement by K+S management as reason for its withdrawal.
U.K. set to sell all Lloyds shares
The U.K. government plans to fully exit its stake in Lloyds Banking Group Plc. over the coming months according to a statement this morning. The government is selling 2 billion pounds of stock to retail investors at a discount of 5 percent of the market price. A person with knowledge of the matter said that the balance of shares held by the government, worth about 2.5 billion pounds would be offered to institutional investors to allow the lender to return to full private ownership early in 2016.
What we've been reading
This is what's caught our eye over the weekend.
Want to receive this post, and more, into your inbox every morning? Sign up here
Before it's here, it's on the Bloomberg Terminal.
LEARN MORE