EU Commission Not Transparent Enough on Tobacco, Ombudsman Says
by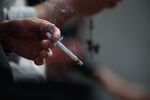 The European Commission's disclosures about meetings with lobbyists from the tobacco industry have been insufficient, according to an inquiry by European Ombudsman Emily O'Reilly.
Under former President Jose Barroso, the commission's approach to publicizing the meetings was "inadequate, unreliable and unsatisfactory,'' the Ombudsman said in a statement Monday.
The Ombudsman recommends that under Jean-Claude Juncker, the commission should proactively publish all scheduled meetings with tobacco lobbyists, or their legal representatives, as well as the minutes of those meetings. O'Reilly has invited the commission to explain how it will implement her recommendations by the end of the year.
Philip Morris International Inc. and British American Tobacco Plc are legally challenging the European Union's Tobacco Products Directive --which regulates the manufacture, presentation and sale of tobacco products -- in the European Court of Justice, claiming it has no legal basis.
The consultation on proposed revisions to the Tobacco Products Directive in 2014 drew an "influx of lobbyists into Brussels," Daniel Freund, a policy officer with Transparency International, said by phone. "The meetings require greater scrutiny."
In an e-mailed statement, a spokesperson for the commission said its practices offer a "high degree of transparency" and it will respond to the Ombudsman within the deadline.
The Ombudsman examines complaints about poor levels of administration by EU
institutions and probes possible cases of unfair treatment toward companies and
citizens.
Before it's here, it's on the Bloomberg Terminal.
LEARN MORE