Photographer: Luke Sharrett/Bloomberg
Charting the Markets: Global Stocks Jump on Weak U.S. Jobs Report
Emerging market stocks advance, commodities rise on weaker dollar and Glencore rises again.
By
The MSCI All Country World Index rose for a fourth day, the best run since mid July, as Friday's U.S. jobs report reduces the odds of a 2015 rate hike. The U.S. economy added 142,000 jobs in September, below the 201,000 estimate by economists in a Bloomberg survey, and wage growth stalled. Asian stocks rose for a fourth day, while the Stoxx Europe 600 index gained as much as 2.3 percent at the open.

The MSCI Emerging Markets index is gaining for a fourth day, the best streak since April, as a weaker than forecast U.S. payrolls report pushes back expectations of when the Fed will raise rates. There is now an 8 percent chance of a rate hike in October, according to data compiled by Bloomberg. March 2016 is when traders are betting it'll happen with a 55 percent probability. Emerging market stocks have sunk 24 percent from this year's high in April in anticipation of tighter U.S. monetary policy and a slowing Chinese economy.

As the odds for a U.S. rate hike in 2015 lengthen, the dollar is losing its allure, lifting commodities. The Bloomberg Dollar Spot Index, which tracks the performance of a basket of 10 leading global currencies versus the greenback, is falling for a third day, having gained 2.8 percent in the third quarter. The Bloomberg Commodity Index, which measures the performance of 22 raw materials, rose for a second day after sinking 14 percent last quarter, the biggest drop for seven years. A weak dollar tends to benefit commodities by making them cheaper in other currencies. 

Glencore shares surged as much as 72 percent in Hong Kong, the biggest increase ever, and jumped as much as 20 percent at the open in London before paring gains. Singapore's sovereign wealth fund is among a group of investors that have expressed an interest in buying part of Glencore's agricultural business, people familiar with the situation said last week. The Telegraph newspaper also reported Monday that Glencore would listen to offers for the whole company, although its management doesn't believe there are buyers willing to pay a fair value in the current market. Glencore today says it's unaware of reasons for the movement in its share price. Last Monday, the shares plummeted a record 29 percent in London. Over the next four trading days the company clawed back all but 2 percent of those losses. It still remains the worst performer on the FTSE 100 Index in 2015, with a decline of 65 percent.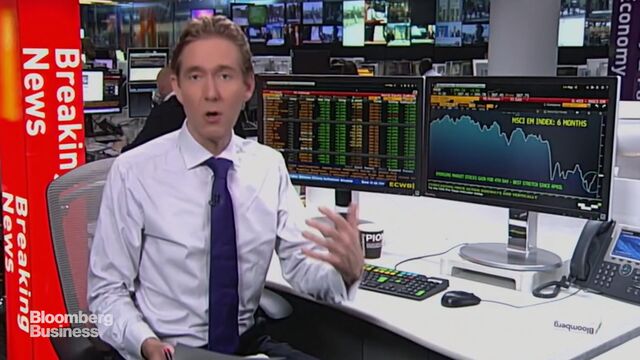 Mark Barton is a presenter on Bloomberg TV. Follow him on Twitter @markbartontv