Is the Theory of Disruption Dead Wrong?
The sexiest idea to come out of business schools in decades has major flaws, a new study says.
By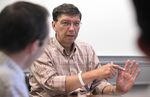 Perhaps no sexier product has emerged from American business schools than the theory of disruptive innovation, introduced in 1997 by Harvard Business School professor Clayton Christensen. Disruption—the theory that innovators with cheap solutions to a vexing market problem can unseat larger, more established rivals—has become an unavoidable part of conversations about companies and the people who work in them. It has been hailed as the answer to everything from making health care more efficient to reducing poverty. But what if the theory is bogus?
A recent study published in the MIT Sloan Management Review suggests that the vast majority of cases that Christensen cited in support of his theory do not actually fit the model. 
"We've shown that the theory is not very explanatory, it's not very predictive, and it can only be narrowly applied," said Andrew King, the Dartmouth Tuck School of Business professor who co-authored the study.
In his book The Innovator's Dilemma, Christensen theorized that companies fail because they underestimate their least threatening competitors. Their executives concentrate on complex, expensive products for the highest-end customer. That creates an opportunity for upstarts to come up with cheaper products or services that get them entry into a market via low-end customers. The old hands fail to acknowledge their new competitors and are ultimately dethroned by them, the theory goes.
But that's not what actually happened at many of the companies Christensen used to demonstrate the theory, the paper says. In The Innovator's Dilemma and its follow-up, The Innovator's Solution, Christensen cites 77 examples of challenges at such corporations as Xerox, IBM, and Harley-Davidson. The researchers found that just seven of the cases–9 percent—fit exactly with his theory. Christensen declined to comment for this article.
King, the Tuck professor, along with Baljir Baatartogtokh, a graduate student at the University of British Columbia, spent two years asking experts about each of the cases Christensen studied. In a third of the cases, old-guard businesses were not actually disrupted, the researchers found. The companies may have contended with innovation, but they were not pushed out of the market by it.
Consider ultrasounds, which Christensen has said disrupted X-ray technology because they offered a way to capture fleshy body parts. In reality, King says, the X-ray machine makers won the day by producing a more sophisticated alternative: Magnetic Resonance Imagery (MRI). 
This is not the first time Christensen's ideas have been questioned. In a 2014 New Yorker article, Harvard historian Jill Lepore reported that, on close inspection, the facts did not support some of Christensen's basic descriptions of how or why industries changed. After the New Yorker piece was published, Christensen told Bloomberg that Lepore had committed "a criminal act of dishonesty." King, the Dartmouth professor, also rooted around in the annals of disruptive innovation before writing this paper. In 2002, he published a takedown of Christensen's view of the disk-drive industry, which he argued would be disrupted by tiny, 1.8-inch drives. (In fact, the small drives died out, but the larger ones are still in production.) 
The attacks have not dimmed disruption's popularity as a management buzzword. Eric Schmidt, Google's former chief executive officer, has said that Europe can solve its unemployment problem with disruptive innovation. This year, USAID, a government agency, credited disruptive innovation for helping curb Nepal's "extreme poverty." In a speech at New York University this summer, Hillary Clinton said she was looking for "innovative, disruptive ideas that will save capitalism for the 21st century." 
Business leaders seem so enamored with the idea that they're reluctant to seriously consider naysayers who poke holes in it. "Ninety percent of the problem isn't Clay, it's what happened afterwards," King says. "People don't want to give this up for some reason."