An Interesting Thing Happened in the Repo Market
The end of the quarter highlights big changes.
by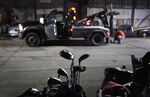 The growing gap between where dealer-banks are willing to finance each other through the vast and shadowy "repo" market vs. what investors charge for such collateralized lending shows the negative feedback loop of heightened regulatory pressures on banks.
Or as JPMorgan analysts led by Alex Roever put it in a recent note, "sheet happens."
At this past quarter-end repo rates surged, with the move most pronounced in what is known as general collateral finance (GCF) rates between large dealer-banks. While a spike in repo rates has often indicated stress in the banking system, JPMorgan argues that the third quarter's upward move was the result of "financial stability" rather than financial stress. 
Dealers are generally incentivized to curtail levels of short-term wholesale funding on their balance sheets ahead of quarter-ends — a move known as "window-dressing" in financial market parlance.
But the typical end-of-month activity was exacerbated as Sept. 30 also coincided with the day the Federal Reserve took a snapshot of the finances of the largest U.S. banks to gauge the extra capital they will need to hold as part of being categorized as global systemically important banks, or G-SIBs.
"While GCF rates reflect where dealers are willing to finance one another, they don't reflect where investors are willing to lend to dealers, which is substantially below GCF," Roever, who is head of U.S. rates strategy at JPMorgan, said in a note published on Oct. 2.  The bank holds the top rank for fixed-income research according to Institutional Investor magazine.
"Post-crisis regulations have created multiple disincentives for over-use of short-term funding and have raised capital costs. In repo markets this has meant dealers have had to turn away would-be suppliers of cash."

Investors such as money-market mutual funds have had the option of parking their cash elsewhere at these times when dealers are shunning them, even as rates are lower.
That's because the Fed has been testing an overnight, and at quarter-end extended maturities, reverse repo program, or RRP, ahead of a potential move to higher interest rates. This quarter-end period, investors placed $250 billion at the Fed in their term operations at 0.07 percent and on the 30th a total of $200 billion at 0.05 percent.
"To sum up, the recent volatility in both repo and swaps are in large part a function of how dealers are responding to both market and regulatory conditions," Roever wrote. "The big takeaway is that the aggregate size of dealer balance sheet matters to a wide range of market participants."
Before it's here, it's on the Bloomberg Terminal.
LEARN MORE