Tsipras Begins Tightrope Walk as He Unveils New Greek Budget
by
Greek leader set to detail policy plans for new term in office

Parliament debate concludes Wednesday with vote of confidence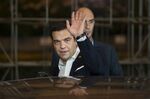 Greek Prime Minister Alexis Tsipras is set to unveil a draft budget for 2016 along with his government's policy plans for its new term in office, as he tries to win back the trust of the country's European partners.
In a three-day-long parliamentary debate set to conclude with a vote of confidence on Wednesday, the 41-year-old leader will seek to strike a balance between complying with creditors' demands and fulfilling his election-campaign promises for a "parallel program" to alleviate the impact of austerity. European leaders are pushing Greece for deep spending cuts and economic overhauls.
"Comrades, we have an important and difficult task ahead: to implement the agreement of July 12," Tsipras told lawmakers from his Syriza party on Saturday, referring to the bailout deal he struck in the summer. "At the same time, we have to negotiate on the issues that are still open, which we fought to keep open, to hold the ground we gained." 
Tsipras is trying to contain the economic fallout from the six months of wrangling with creditors that preceded the July deal. The government's priority is restoring collective bargaining in labor markets and tackling the issue of non-performing loans while protecting primary residences from foreclosures, the premier said on Saturday.
"Tsipras will most likely avoid delving into much detail" and reiterate much of his speech to Syriza lawmakers, analysts at Athens-based Pantelakis Securities Paris Mantzavras and George Grigoriou wrote in a note to clients. The message will be "that Greece must stick to the recently agreed bailout plan, even though it will be difficult to implement but necessary in order to exit this system of surveillance and immediately begin negotiations on debt relief," the analysts said.
48 Milestones
European authorities, meanwhile, are pushing Greece to implement 48 "milestones" by mid-October in order to secure the next tranche from its bailout, according to a document obtained by Bloomberg News. They include amending laws on household insolvency and retirement benefits.
Circulated among the so-called Euro Working Group of Finance Ministry officials, the milestones include bills that parliament passed in August, but which have yet to receive the ministerial and presidential decrees needed for full implementation. Greece's progress in implementing its bailout commitments will be discussed among finance ministers of the euro area's 19 economies who are gathering in Luxembourg on Monday.
Tsipras said there's still room for negotiation with creditors on "equivalent measures" for some parts of the austerity program, the sale of electricity utility Public Power Corp SA and a new round of pension cuts. Both are among the dozens of conditions included in Greece's bailout agreement with euro area member states for unlocking emergency loans.
At stake if Greece doesn't comply and its creditors freeze disbursements is the country's ability to service its debt and recapitalize its battered financial system before the end of the year. Greek bonds were among the worst-performing of all sovereign securities tracked by Bloomberg's World Bond Indexes for the past year.

Also coming by the end of October is completion of a balance-sheet review of Greek banks being conducted under the auspices of the European Central Bank, European Commissioner for Economic and Financial Affairs Pierre Moscovici told Proto Thema newspaper in an interview published Sunday. Greek bank shares hit a record low on Oct. 1, reducing the value of the state's stake in Greece's four biggest lenders to 1.9 billion euros ($2.1 billion) on Friday from about 17 billion euros a year ago.
This week's policy platform debate and vote of confidence are standard procedure in Greek parliament following an election recess. Tsipras formed a coalition government with the nationalist Independent Greeks party after his victory in a snap vote held Sept. 20.
"The Greek people rewarded the difficult fight we put up," Tsipras said Saturday. "The people also rewarded the difficult choice we made to reach a compromise," he said, adding that a discussion on easing Greece's public debt burden will begin before the end of the year.
Before it's here, it's on the Bloomberg Terminal.
LEARN MORE