Portugal's Ruling Coalition Wins Election, Exit Polls Say
by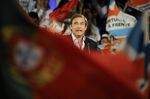 Portuguese Prime Minister Pedro Passos Coelho's ruling coalition won the country's general election, television station RTP's exit poll indicated.
The coalition won between 38 percent and 43 percent of the vote, which may represent between 108 and 116 seats in parliament, according to the poll by the Catholic University for RTP. The opposition Socialist Party took between 30 percent and 35 percent of the vote, or between 80 and 88 seats in parliament.
Portugal's parliament has 230 seats, meaning at least 116 seats are needed for a majority.
Exit polls for television stations SIC and TVI also indicate that the ruling coalition won the election.
Before it's here, it's on the Bloomberg Terminal.
LEARN MORE