Osborne Will 'See How It Flies' Once Cameron Decides to Quit
Svenja O'Donnell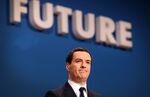 U.K. Chancellor of the Exchequer George Osborne, the bookmakers' favorite to succeed David Cameron as prime minister, denied he's already planning the move, saying he'll "see how it flies" once Cameron steps down.
"I owe it to him to do this job to the best of my ability until the day he stops being prime minister," Osborne said in an interview with the Mail on Sunday newspaper published on the first day of the Conservative Party conference in Manchester, northwest England. "I never look at him and go, 'I should be sitting there, he's occupying my cabinet seat, he's stolen my birthright.'"
Cameron sparked speculation about his successor after saying in a BBC interview weeks before May's election victory that he didn't intend to serve more than two terms as prime minister. That means a new Tory leader -- and premier -- would have to be in place by the next election in 2020.
"If I were for one moment to think, 'I'm not going to put this in my budget because it might hinder my chance of becoming PM' or 'I'm going to avoid saying something controversial because there may be some Conservatives who don't like it and that might damage my chances' -– if I ever thought like that I should be sacked," Osborne said.
Cameron reiterated his intention not to stand for a third term in an interview on BBC Television's "Andrew Marr Show" on Sunday.
"I think 10 years is enough," he said. "Now the effect it has on the Conservative Party -- frankly, I would say it's good we have a team, a team with stars in it and of course we will look at some of those stars and whether he or she would be able to do this job."
Other Runners
Bookmakers also make London Mayor Boris Johnson and Home Secretary Theresa May among the leading candidates to succeed Cameron.
Education Secretary Nicky Morgan, who said last week she would consider running as it's time for another woman to lead the party, sidestepped further questioning on the issue at a fringe event at the conference Sunday.
"'My focus is on doing the three jobs I've already got," Morgan said, referring to her work in government, where she's also minister for women, and as a lawmaker. "We will cross that bridge when we get to it."
Asked by the BBC Sunday whether he has aspirations to run, Business Secretary Sajid Javid replied: "Of course not."
Before it's here, it's on the Bloomberg Terminal.
LEARN MORE