Osborne Sees U.K. Investment Boost From Council Pension Mergers
Robert Hutton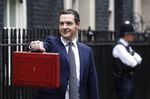 U.K. Chancellor of the Exchequer George Osborne will urge the 89 local-council pension funds in England and Wales to consolidate in an effort to improve their investment strategies and reduce costs.
The move will be announced by Osborne in a speech on Monday to his Conservative Party's annual conference in Manchester, northwest England. He'll say the goal is to encourage the funds to invest more of the 180 billion pounds ($270 billion) they manage in infrastructure projects.
"Where would Britain be if we had never built railways or runways, power stations or new homes?" Osborne will say, according to extracts of the speech released by his office. "Where will we be in the future if we stop building them now? We have to shake Britain out of its inertia on the projects that matter most."
According to Osborne's office, only 0.5 percent of local authority pension money is invested in infrastructure. In countries with larger pooled funds, up to 17 percent of the money is invested in housing and infrastructure. His office said the Treasury will facilitate local-authority funds consolidating into as few as six larger funds, each managing around 25 billion pounds.
Larger funds will also be able to cut management fees, Osborne's office said. According to the Office for National Statistics, fund management fees paid by English local authorities increased more than 170 percent to 449 million pounds in the decade to April 2014, while the size of the funds only doubled over the same period.
Before it's here, it's on the Bloomberg Terminal.
LEARN MORE