Osborne Coup Sees Ex-Labour Man Named as Infrastructure Chief
Svenja O'Donnell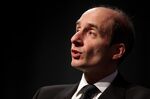 Former Labour minister Andrew Adonis will head a new U.K. infrastructure body set up by Chancellor of the Exchequer George Osborne, marking a major step in the Conservatives' push to capture the political center ground.
Osborne will detail a four-point plan, which includes the formation of an independent National Infrastructure Commission, in a speech to the Conservative Party's annual conference in Manchester, northwest England, on Monday. The panel will identify the U.K.'s building and transport needs and hold the government to account if it fails to deliver, according to a statement released by the chancellor's office.
Adonis's appointment is a political coup for Osborne, whose party is seeking to capture a share of the Labour opposition's voters after the election of Jeremy Corbyn as its leader in September. Corbyn's policies -- which include renationalizing Britain's railways and ruling out any option to use nuclear weapons -- have alarmed more moderate Labour lawmakers who fear their party will lose even more support after its election defeat in May.
Adonis, up to now a Labour member of the upper House of Lords, will give up his party affiliation to sit "as a cross-bench peer and help us create Britain's plan for the future," Osborne will say, according to prepared remarks. "Working together in the national interest."
A minister under Tony Blair who rose to become Transport Secretary under Gordon Brown, Adonis is one of the party's most senior figures. His appointment demonstrates the widening split between Corbyn's supporters and the party's more moderate core.
'Key Requirements'
"I hope it will be possible to forge a wide measure of agreement, across society and politics, on key infrastructure requirements for the next 20 to 30 years," Adonis said in a statement. "Without big improvements to its transport and energy systems, Britain will grind to a halt."
The commission will initially focus on providing a plan to increase transport links between northern English cities and advise on what the next big investment in London's transport system should be. It will also advise the government on improving the U.K.'s power system.
Making the case for independent commissions, Osborne's office cited the report into London airport capacity published this year by the economist Howard Davies. That recommended adding an extra runway at Heathrow, something opposed by Conservative lawmakers representing districts under the flightpath. An explicit endorsement of Davies's report in Osborne's speech may be a signal the government is on course to support Heathrow expansion.
Osborne's plan will also include 5 billion pounds ($7.6 billion) of extra spending on infrastructure, funded by asset sales, by the 2020 election.
Before it's here, it's on the Bloomberg Terminal.
LEARN MORE