Matt Damon's 'The Martian' Rules Weekend Box-Office Sales
Lily Katz and Scott Moritz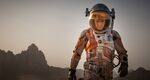 20th Century Fox's "The Martian," starring Matt Damon as a likable botanist stranded on Mars, led the North American box office in its opening weekend to make it the studio's biggest domestic film debut of the year.
The sci-fi picture, which chronicles the trials of an astronaut's survival attempts on an inhospitable planet, brought in $55 million in weekend ticket sales in the U.S. and Canada, researcher Rentrak Corp. said Sunday in an e-mailed statement. It was the only new film opening in wide release. Last week's leader,"Hotel Transylvania 2," fell to second place, while two other returning features, "Sicario" and "The Intern" landed in third and fourth, respectively.
The plot of "The Martian" became a lot more believable last week after NASA announced that scientists had detected water on Mars -- publicity that neatly coincided with the movie's debut. The space agency worked extensively with the film's crew during production.
"The Martian's debut capitalized on the NASA Mars revelations just this week and a groundswell of positive audience and critic reaction to the film," said Paul Dergarabedian, Rentrak's senior media analyst.
The movie posted the second-biggest October opening weekend ever, coming in behind the $55.8 million generated by "Gravity" in 2013, Rentrak said.
Worldwide sales for "The Martian" were an estimated $100.2 million, according to a 20th Century Fox statement. About 45 percent U.S. and Canadian moviegoers watched it in 3-D, the studio said.
Left Stranded
Directed by Oscar-Winning sci-fi enthusiast Ridley Scott, the filmmaker behind "Alien" and "Blade Runner," the film follows Damon as astronaut Mark Watney and his fight to survive on Mars after he is left behind by his crew. The film also features Jessica Chastain, Kristen Wiig and Jeff Daniels.
Critics were impressed with the picture, which scored a 94 percent favorable rating on Rottentomatoes.com, which distills reviews into a number.
"The problem-solving valorized in 'The Martian' provides a simultaneously stirring and spirited example of how cool science can be. As NASA-Hollywood plots go, this one is worth lapping up like all the water on Mars" Ann Hornaday wrote in the Washington Post.
BoxOffice.com, another industry researcher, was forecasting weekend sales of $56 million for "The Martian." The picture cost an estimated $108 million to produce, according to IMDb.com, a sum that doesn't include the many millions spent advertising the picture.
Science Chic
"Science chic is what some may call the recent renaissance in the space film genre, with 'Gravity' and 'Interstellar' just two recent example of such hit films," Dergarabedian said.
About 72 percent of the audience for "The Martian" was older than 25. The appeal to older, more sophisticated viewers coincided with NASA's Mars findings this week, he said.
"It all perfectly came together in terms of timing, content and relevance," Dergarabedian said.
Among the returning films, Sony Corp.'s "Hotel Transylvania 2," a sequel to the vampire-themed animated film released in 2012, produced sales of $33 million in its second weekend, Rentrak said. BoxOffice.com had predicted $31 million.
The movie, which set a box-office record for a September debut, features the voices Adam Sandler, Andy Samberg and Selena Gomez. It has taken in $90.5 million since its Sept. 25 release, according to Rentrak.
Fighting Crime
"Sicario," a thriller that follows an FBI agent who is enlisted by the government to fight the war on drugs, expanded to more theaters and collected $12.1 million in its third weekend. BoxOffice.com was projecting $14.3 million.
The Lions Gate Entertainment Corp. picture stars Emily Blunt, who works alongside Josh Brolin, Benicio Del Toro and Jon Bernthal. The picture had been in limited release the previous two weekends.
"The Intern," featuring Robert De Niro and Anne Hathaway, reaped $11.6 million to land in fourth place during its second weekend for Time Warner Inc.'s Warner Bros. De Niro plays Ben, a retired widower who interns at a fashion website started by Hathaway's Jules.
Weekend sales for the top 10 films rose 3 percent to $139.9 million from a year earlier, Rentrak said. Sales for the year to date have increased 6.5 percent to $8.4 billion.
The following table has U.S. movie box-office figures provided by studios to Rentrak. The amounts are based on actual ticket sales for Oct. 2 and Oct. 3 with estimates for Sunday.
                     Rev.    Pct.             Avg./   Total
 Movie              (mln)    Chg. Theaters  Theater   (mln)  Wks
================================================================
1 Martian, The       55.0     --    3,831   14,357     55.0   1
2 Hotel Transylvania 33.0    -32    3,754    8,791     90.5   2
3 Sicario            12.1    603    2,620    4,609     15.1   3
4 Intern, The        11.6    -34    3,320    3,500     36.5   2
5 The Scorch Trials   7.7    -46    3,319    2,305     63.2   3
6 Black Mass          5.9    -46    2,768    2,133     52.5   3
7 Everest             5.5    -58    3,009    1,830     33.2   3
8 Visit, The          3.9    -41    2,296    1,720     57.7   4
9 War Room            2.8    -34    1,746    1,604     60.5   6
10 Perfect Guy, The   2.4    -50    1,364    1,760     52.6   4



Top 10 Films Grosses



   This Week     Year Ago      Pct.
     (mln)         (mln)       Chg.
===================================
    $139.9        $136.2       2.7



Year-to-date Revenue



     2014          2013
      YTD           YTD        Pct.
     (mln)         (mln)       Chg.
===================================
    $8,367        $7,853       6.5

Source: Rentrak Corp.
Before it's here, it's on the Bloomberg Terminal.
LEARN MORE