pursuits
Macau Cloud Shouldn't Darken Philippine Casinos, Razon Says
By , , and
Mass gaming market could make up 60% of revenue in 3-5 years

Bloomberry Resorts is Philippines' worst performing stock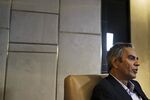 We're not Macau.
That's the message from Philippine billionaire Enrique Razon Jr. after casino operator Bloomberry Resorts Corp. tumbled 61 percent this year, making it the nation's worst-performing major stock.
Bloomberry's losses will narrow because gambling revenue is growing, unlike in Macau, Razon said in an Oct. 2 interview in Manila. He said the company's earnings will improve and it plans to provision by year-end for all unpaid credit extended to VIP and premium players, he said. Bloomberry provided 1.81 billion pesos ($39 million) in the first half for 4.69 billion pesos of receivables.

"The whole industry has been painted with the same brush, but we're nowhere near the situation in Macau, where revenue is really falling," said Razon, 55.
Philippine casino operators have plunged in 2015 as an anticipated flood of high-rollers from China failed to materialize amid an anti-corruption drive spearheaded by President Xi Jinping and worsening relations between the two nations. State-run Philippine Amusement & Gaming Corp. predicts casino revenue in the Southeast Asian country may accelerate in the second half after rising 16 percent in the first six months of the year.
The Philippine casino market can grow without China through increased spending by mass and local gamblers, Razon said. Bloomberry will still pursue premium players through junket operators instead of doing it directly, he said.
"The good thing now, in hindsight, is that our relationship with China is really not that good," he said. "So we never had the business from China, which nowadays is probably a good thing."
As Bloomberry was constructing its Solaire Resort in Manila, tensions between the Philippines and China were building over disputed territories in the South China Sea. The number of Chinese tourists to the country fell by about 33 percent in the first quarter.
Investors Skeptical
The company posted a net loss of 773.5 million pesos in the second quarter amid higher operating costs and expenses at Solaire, which opened March 2013. Revenue grew 9.5 percent to 5.99 billion pesos.
Growth in casino takings will be subdued unless demand from Chinese gamblers picks up, says Astro del Castillo, managing director at First Grade Finance Inc.
"The environment will remain difficult and investors will remain skeptical as it's hard to imagine where spectacular growth will come from for Philippine casinos without China, since that's the region's biggest source of gaming traffic," Castillo said.
Razon said he expects the mass market to keep growing and account for 60 percent of Bloomberry's gambling revenue in three to five years. Premium customers from Southeast Asia, Taiwan and South Korea also continue to arrive at Solaire, Razon said.
Shares Rally
Gross gaming revenue in Macau fell by a third in September, its 16th straight month of declines. Philippine takings from casino operations is forecast to grow 13 percent a year from 2014 to 2017, the highest rate in Asia Pacific, while revenue in Macau is expected to drop by 11 percent during that period, Macquarie Group Ltd. said in a Sept. 28 report. Philippine Amusement & Gaming Chairman Cristino Naguiat said in July the nation's casino revenue has a "good chance" of growing 20 percent to $3 billion this year.
Bloomberry jumped 9 percent at the close in Manila, the sharpest gain since April 2012. Travellers International Hotel Group Inc. gained 2.2 percent, while Melco Crown Philippines Resorts Corp. rose 7.8 percent.
Bloomberry is also looking overseas for expansion. The company will probably know by December whether its bid to build a casino resort in South Korea's Incheon Free Economic Zone is successful, while a casino venture in the North Asian country's Jeju Island may start making money next year, Razon said. The company also is seeking a gaming permit in Argentina, where it would need to spend about $500 million to build a "respectable" casino, Razon said.
Razon has a net worth of $3.7 billion, according to the Bloomberg Billionaires Index. He made his fortune through International Container Terminal Services Inc., a Manila-based operator of cargo facilities in about 20 countries.
"We can't stick to a strategy just because we want to," Razon said. "This is the time to make good moves that will make you a lot of money down the road. We have to adapt to the market, whatever that takes."
(Updates with closing prices in 14th paragraph.)
Before it's here, it's on the Bloomberg Terminal.
LEARN MORE