From Volkswagen to China: What Might Derail Germany's Growth
by
German economy seen expanding 1.9% in 2015 and 2% in 2016

Focus on domestic demand amid vulnerable export outlook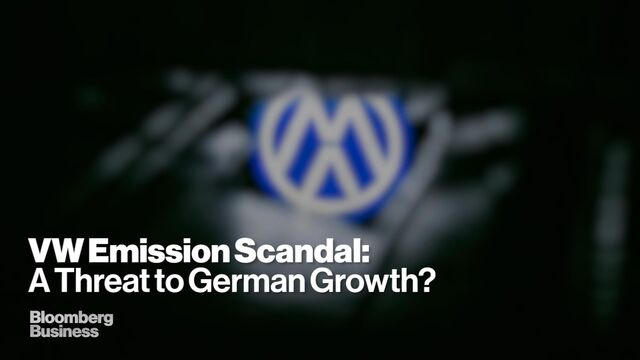 Europe's economic powerhouse is facing a test of might.
Germany's trademark industrial prowess has been called into question by Volkswagen AG's emission scandal, the slowdown in China and other emerging markets is threatening exports, and the influx of migrants is set to put a strain on the nation's finances. This week, a smattering of economic data will give a hint on whether the largest economy in the euro area can sail through the headwinds that have accumulated in recent weeks or is at risk of running aground.
With the euro region's upswing depending on Germany's economic health, European Central Bank President Mario Draghi is watching closely for challenges ahead. A renewed slide in energy prices has countered the effects of his quantitative-easing program, pushing the inflation rate back below zero and triggering a debate about the need for more stimulus that is likely to intensify if Germany's recovery falters.
"It has the capacity to tackle the headwinds but there could be some unpleasant surprises," said Stefan Schneider, an economist at Deutsche Bank AG in Frankfurt. "The global outlook has deteriorated and this won't help investment spending."
A first indication came on Monday, when London-based Markit Economics said its gauge of manufacturing and services activity fell more than initially reported. The Purchasing Managers' Index declined to 54.1 in September from 55 the previous month. A Sept. 23 preliminary reading was for 54.3.
Data on Tuesday and Wednesday will then help assess the state of Germany's all-important manufacturing industry, with releases on August factory orders and industrial production. While economists see both rising, they won't reflect the impact of Volkswagen's fall from grace following the revelation on Sept. 18 that the carmaker cheated on U.S. emissions tests.
Made in Germany
"The worst case would be if the 'Made in Germany' quality seal takes a hit and demand for cars from other manufacturers or machinery declines," said Holger Sandte, chief European analyst at Nordea Markets in Copenhagen, who predicts that a production decline at Volkswagen of less than 10 percent could already damp gross domestic product by a quarter of a percentage point. "It's probably not likely but cannot be excluded either."
The automotive industry, which according to calculations by UniCredit Spa economist Andreas Rees accounts for about 10 percent of GDP, is an important pillar for Germany's export-focused economy. About 22 percent of shipments abroad last year were cars and trucks.

Trade data on Thursday will provide insights into the impact on exports from the slowdown in China and elsewhere, while import statistics may give clues on the strength of domestic demand, which has underpinned growth in recent quarters. The World Trade Organization this week cut its forecast for 2015 trade to 2.8 percent from 3.3 percent and said it's new prediction may still be "over optimistic."
German consumption has been bolstered by falling energy prices and an improving labor market that has added 150,000 jobs since the beginning of the year and pushed unemployment to the lowest level since reunification. Wages have started to accelerate, growing at about 3 percent while inflation has ground to a halt.
A short-term boost to spending may also come from the arrival of an estimated 800,000 asylum seekers this year alone, an influx that puts at risk Finance Minister Wolfgang Schaeuble's goal to keep Germany's budget balanced in 2016. The government has earmarked at least 6.7 billion euros ($7.5 billion) to house, feed and assimilate the migrants.
Bloomberg Intelligence's new real-time tracker of underlying activity points to annualized growth of 2.18 percent in September, suggesting that the German economy expanded in the third quarter at about the same pace as in the previous period. GDP rose 0.4 percent in the three months through June. The European Commission predicted in May that growth would accelerate to 2 percent next year from 1.9 percent in 2015.

"The country is facing three important challenges: the Volkswagen scandal, turbulence in emerging-market economies and the refugee crisis," said Maxime Sbaihi, an economist at Bloomberg Intelligence. "For now, at least, domestic growth drivers remain strong and should keep the recovery on course."
Before it's here, it's on the Bloomberg Terminal.
LEARN MORE