Donald Trump Says Mental Illness to Blame for Gun Violence
The Republican presidential candidate said tougher laws would not change anything.
By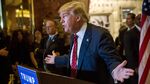 Republican presidential candidate Donald Trump on Sunday blamed mass shootings like Thursday's deadly attack in Roseburg, Oregon, on mental illness, saying stricter gun laws would not eliminate the problem.
"This isn't guns, this is about mental illness," Trump said, on ABC's This Week, according to a transcript provided by the network. "You have sick people in this country and throughout the world, and you're always going to have difficulty," Trump said. 
Trump also said, in a separate interview in NBC's Meet the Press, that the answer could be more guns, and that if there had been other guns in the room at Umpqua Community College, there may have been fewer deaths and injuries. He added that cities that have tougher gun legislation don't necessarily have less violence. 
"You look at Chicago. It's got the toughest gun laws in the United States. You look at other places where they have gun laws that are very tough, they do generally speaking worse than anybody else."
Trump also said that with "sick people in this country and throughout the world," and a tendency for "copycat" crimes, there will be continued incidents. "That's why you have newscasts," he added. 
In an NBC/Wall Street Journal poll of likely New Hampshire voters released on Sunday, Trump was still on top but by a narrower margin than before, with 21 percent support, five points ahead of former Hewlett-Packard chief executive Carly Fiorina. In Iowa, Trump was at 24 percent, while retired neurosurgeon Ben Carson was at 10 percent.
The billionaire real estate developer and reality television star said on ABC on Sunday that he will get out of the race if his poll numbers decline. 
"If that changed and that went in a different direction, and if I thought that I wasn't going to win, like there are numerous people running, they're not going to win, okay?" Trump said. "I would certainly want to get out. I'm not a masochist."
Alexis Leondis contributed to this report.