Russia Intensifies Syria Bombing as Cameron Joins Criticism
by and
Airstrikes targeted training camps in Raqqa, ministry says

U.K. premier accuses Moscow of committing `grave mistake'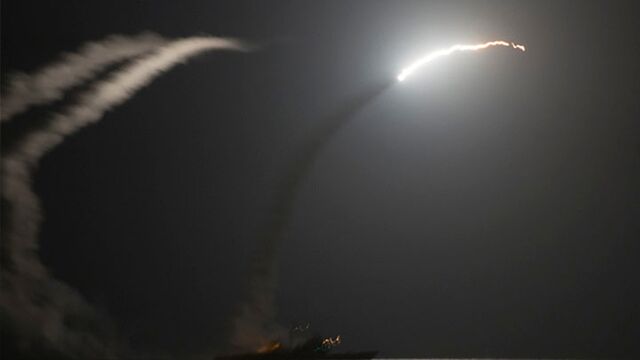 Russia intensified its bombardment of militant targets in Syria with warplanes flying more than 20 missions, as U.K. Prime Minister David Cameron joined calls for Moscow to change course in an intervention he described as a "grave mistake."
The Russian Defense Ministry said on Sunday that 10 Islamic State positions in Syria had been attacked in the past 24 hours, including militant training camps in Raqqa and Idlib provinces. Russian strikes have broken "the management and logistics of the terrorist organization" and caused "significant damage to the infrastructure used for preparation of terrorist attacks," the ministry said on its website. Laser-guided and concrete-piercing ordnance had been used, it said.
The Russian military's direct entry into Syria's civil war last week in support of its ally, President Bashar al-Assad, has stirred anger in the U.S., Europe and Middle East, where leaders accuse Moscow of targeting western-backed rebel forces opposed to Assad as well as the jihadists of Islamic State.
President Barack Obama said Saturday that Russia will get "stuck in a quagmire" if it persists in using military force to prop up Assad's government. The U.S. is intent on destroying Islamic State, and Obama said the country's larger civil war requires a political resolution that would remove Assad, "a brutal, ruthless dictator." In a joint declaration on Friday, the U.S., France, Saudi Arabia and four other nations had condemned Russia for the strikes.
Military officials from Russia and the U.S. began discussing operations inside Syria last week in an attempt to avoid an inadvertent confrontation in the country's skies. A U.S.-led coalition of 65 countries has conducted more than 7,000 airstrikes against Islamic State targets in Iraq and Syria in the last year, according to the Defense Department.
Cameron, speaking as his Conservative Party began its annual conference, urged Russian President Vladimir Putin to "change direction" and back U.K. and U.S. efforts by focusing attacks on Islamic State. Russia says its air campaign is aimed only at helping Assad's forces fight terrorists and that Russian planes have already hit more than 50 Islamic State positions. 
'Butcher Assad'
Russia is "backing the butcher Assad, which is a terrible mistake for them and for the world," Cameron told BBC Television's "Andrew Marr Show" on Sunday. "It's going to make the region more unstable, which will lead to further radicalization and increased terrorism."
Cameron continued: "I would say to them change direction, join us in attacking ISIL but recognize that if we want to have a secure region we need an alternative to Assad," using an alternative designation for Islamic State. Assad "can't unite the Syrian people."
The British premier also repeated his desire to extend current U.K. airstrikes against Islamic State in Iraq to Syria, for which he'll need parliamentary approval. Speaking in Manchester, northwest England, Cameron announced Sunday a doubling of the U.K's drone fleet and increased funding for special forces "to combat the terrorist threat."
Cameron's Defence Secretary, Michael Fallon, took aim at both Islamic State militants and Russia's actions. "ISIL recognizes no borders and has to be taken on wherever it roots," Fallon said in Manchester. "So we should not leave it to French, Australian, or American aircraft to keep our own streets safe. Nor should anybody, including Russia, prop up the tyrant, rather than tackle the terror. Syria deserves to be free of both ISIL and Assad."
For Related News and Information:
Syria Says Air Strikes Not Enough Against Islamic State
Obama Warns Putin Risks a Quagmire in Propping Up Assad
Top Stories: TOP
Before it's here, it's on the Bloomberg Terminal.
LEARN MORE