Cameron EU Demands Become More Vague as Renegotiation Continues
Robert Hutton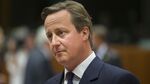 As David Cameron's renegotiation of the terms of Britain's European Union membership goes on, the nature of the prime minister's demands is growing more vague.
Foreign Secretary Philip Hammond insisted at the Conservative Party's annual conference on Sunday that other EU leaders would give way, in order to keep the U.K. inside the 28-member bloc. But he skated over what Britain actually wants before holding the referendum on membership that Cameron plans before the end of 2017.
On the issue of welfare, the prime minister set out a series of red lines in November 2014, including demands that people arriving in the U.K. from elsewhere in the EU shouldn't receive payments or state housing until they'd been resident for four years. Cameron said then that they should have a job offer before they get to Britain, shouldn't receive unemployment benefits and should be removed from Britain if they didn't find work within six months.
In his speech at the conference in Manchester, Hammond reduced those demands to a message of "No to abuse of our welfare system." In total, his speech contained just 161 words on what Britain wants, including ruling out membership of the euro or the establishment of a European army.
"The negotiations will be tough, but we will secure a deal," Hammond said. "Because our European neighbors understand the value Britain adds to the EU and that keeping us there requires real change. A package that both addresses the British people's concerns and delivers the reform that puts Europe on course for success."
'Confident' Cameron
Cameron signaled in a television interview Sunday morning his desire to keep Britain in the EU, saying he's "confident we will get what we want," though he reiterated that he "will rule nothing out" if he fails to achieve what he's seeking.
Robert Oxley, campaign director of Business for Britain, one of the groups pushing for the U.K. to leave the EU, said the prime minister needs to do more to fulfill his pledge of reform.
"David Cameron promised 'fundamental change' to our relationship," Oxley said in a telephone interview. "Fundamental change means treaty change, ending supremacy of EU law, and returning control to Parliament. Anything less will not be the renegotiation that was promised."
For more, read this QuickTake: Will Britain Leave the EU?
Before it's here, it's on the Bloomberg Terminal.
LEARN MORE