Violent Storms Kill at Least 16 People Along the Cote d'Azur
Angeline Benoit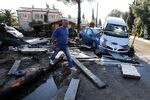 Violent storms killed at least 16 people and left another three missing along the Cote d'Azur, one of France's most popular tourist destinations, according to the latest update from President Francois Hollande's office.
Most rail traffic remains halted in the Alpes-Maritimes department of southeast France, with trains running only between the cities of Marseille and Toulon, and Nice and Ventimiglia in Italy, according to a spokeswoman for the local government, who asked not to be identified in line with the authority's policy. The A8 highway has re-opened after Saturday night's downpour and Nice airport has resumed flights, she said.
Almost 18 centimeters of rain fell on Cannes and 16 centimeters on the neighboring town of Mandelieu-la-Napoule, the Interior Ministry said in a statement on Sunday morning.
Rescue teams have struggled to access the worst affected areas and 27,000 homes are cut off from electricity. Large parts of the region's road network are unusable.
President Francois Hollande and Interior Minister Bernard Cazeneuve have visited the region.
Before it's here, it's on the Bloomberg Terminal.
LEARN MORE