Portuguese Start Voting to Give Verdict on Bailout Years
by
Premier Coelho leads first coalition to survive term in office

Opposition leader Costa wants to slow deficit reduction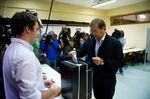 Portuguese voters are casting their ballots Sunday in the first general election since 2011, with polls signaling the government that led the nation out of an international bailout may be re-elected.
Voting started at 8 a.m. and finishes at 7 p.m. local time. A total of 9.7 million citizens are eligible to cast ballots, and voter turnout reached about 44 percent at 4 p.m. in Lisbon, slightly higher than the level at the same stage four years ago, the government said. Exit polls will be released from 8 p.m.
Under Premier Pedro Passos Coelho, who leads the first coalition government to survive a full term in office since a four-decade-long dictatorship ended in 1974, Portugal exited the rescue program it entered four years ago and returned to economic growth. While austerity fueled the rise of parties such as Podemos in Spain and Syriza in Greece, Portugal's voters have continued to back the two parties that have taken turns to rule the country since 1981.
"I invite everyone to organize their lives this afternoon and to find time to exercise their right to vote," President Anibal Cavaco Silva said in remarks broadcast after he voted on Sunday, calling on the Portuguese to go the polls even as the country's three most popular soccer teams play today.
About 42 percent of voters failed to turn out in the 2011 election.
"I hope a significant part of the Portuguese people can vote today, even if there is some bad weather," Coelho told television station SIC after voting in the Lisbon suburb of Massama on Sunday morning.
Coalition Leads
The Social Democrat and CDS coalition led the opposition Socialists by at least 4 percentage points in surveys released over the past week, with a recent survey by the Catholic University putting the gap at 38 percent to 32 percent. While that won't be enough for a majority, it puts Coelho on track to form a minority government.
Coelho, 51, faces Socialist leader Antonio Costa, who proposes narrowing the deficit at a slightly slower pace than the ruling coalition. Prime Minister Coelho has said he wants an export-led recovery and former Lisbon mayor Costa, 54, wants to reverse salary cuts sooner to bolster families' incomes.
"There's an enormous will to change government and change policy," Costa told SIC after voting near Lisbon.
The coalition took over from the Socialist minority government that in April 2011 followed Greece and Ireland in requesting a three-year bailout. Portugal sold assets, raised taxes on everything from wages to diesel cars and reduced spending by 11 billion euros ($12.4 billion).
Portuguese 10-year bonds yield 2.3 percent, compared with 18 percent three years ago at the height of Europe's debt crisis.
"A minority government seems the most likely outcome, " said Lyn Graham-Taylor, a London-based rates strategist at Rabobank International in a note. "However, we think that the threat posed to Portuguese government bonds by such an eventuality is relatively limited. Both of the major parties broadly support the country's commitment to debt reduction."
Before it's here, it's on the Bloomberg Terminal.
LEARN MORE