Netanyahu Says He Is Ready to Move on After Iran Nuclear Deal
By
Israeli prime minister says he will help ensure compliance

'Now that it's done, let's look forward,' Netanyahu tells CNN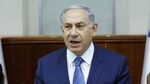 Israeli Prime Minister Benjamin Netanyahu said he is ready to move past his opposition to the nuclear deal with Iran and work to rebuild frayed relations with the U.S. and President Barack Obama.
Netanyahu, speaking in an interview to be broadcast Sunday on CNN's "Fareed Zakaria GPS," said Israel will join the U.S. in trying to ensure Iranian compliance with the deal. The accord between Iran and six world powers eases international sanctions in exchange for curbs on its nuclear program.
"Now that it's done, let's look forward," he said, according to a transcript provided by CNN. "Let's keep Iran's feet to the fire. Let's make sure that they keep all their obligations under the nuclear deal."
Netanyahu, who is scheduled to meet with Obama in November, said Israel will work with the U.S. to block Iran's aggression in the Middle East and tear down the country's global terror network.
"Yes, we had a disagreement in the family, as President Obama and I both said," Netanyahu said. "But we have no disagreement about blocking Iran's aggression and working against its terrorism."