Mozambique Troops Clash With Renamo as Leader Remains in Hiding
by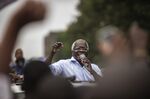 Forces loyal to Mozambique opposition leader Afonso Dhlakama, who remains in hiding after surviving an attack last week, clashed with government troops in the central province of Manica on Friday.
The attacks occurred in Mpindanhanga, in the district of Chitaka, after seven vehicles carrying members of the armed forces and elite police unit, known as the Rapid Intervention Force, accused locals of protecting Dhlakama, Antonio Muchanga, a spokesman for the opposition Renamo party, said in a posting on the group's Facebook page.
Tension has escalated this month between Renamo and the ruling Front for the Liberation of Mozambique, or Frelimo, which had both been engaged in a 16-year civil war that ended in 1992. Mozambican police opened a criminal case against Dhlakama and other Renamo personnel who were part of a convoy involved in a Sept. 25 shooting that left 21 people dead and six injured. Dhlakama fled the attack and has been in hiding since then.
Mozambique is developing projects that could make it the third-largest exporter of liquefied natural gas.
Before it's here, it's on the Bloomberg Terminal.
LEARN MORE