VW Deals With More European Lawsuits From Emission Cheating
by and
Lawyer in Switzerland calls on more drivers to join lawsuit

German lawyer says he's had several hundred investor requests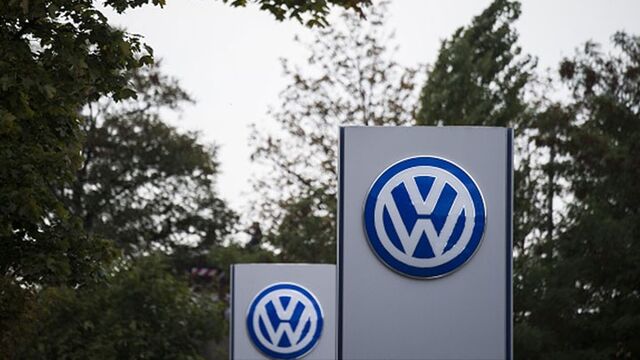 Volkswagen AG is facing a new round of legal challenges after admitting it cheated on emissions tests for years, with French, German and Swiss lawyers taking action against Europe's biggest carmaker.
The Paris prosecutor opened a probe into VW for deceit and putting people's health at risk, while a German law firm, Tilp, filed a lawsuit with local authorities that will seek compensation for VW shareholders for the stock price drop since Sept. 20. A Swiss lawyer, Jacques Roulet, filed a criminal complaint alleging fraud against the carmaker as the country prepared to ban 130,000 vehicles on Oct. 5.
Volkswagen is grappling with a growing number of lawsuits and government probes around the world after conceding last month that some cars were fitted with software that allowed them to cheat by running more cleanly during emission testing than during regular road driving. Lawyers in the U.S. have filed more than 190 lawsuits with claims for billions of dollars.
The Parisian probe was opened after the regional transport official filed a complaint, which will be investigated by police financial and health units, spokeswoman Agnes Thibault-Lecuivre said today in a telephone interview.
Axel Wegner of German firm Tilp handed in a lawsuit yesterday with the public prosecutor's office in Braunschweig, not far from Volkswagen's Wolfsburg, Germany, headquarters.  A call to the prosecutor's office wasn't immediately returned.
"It was important for us to get this done quickly," Wegner said in a phone interview. "From private investors alone, we have several hundred requests and I expect a large part of these will participate in the lawsuit."
Italy's antitrust agency said it opened a probe into VW and its Italian unit after complaints from consumer groups. The Italian Competition Authority said it will review claims made about emissions in ads among other things.
Roulet, the Swiss lawyer who filed a criminal complaint, is calling on drivers in Switzerland to join the action, according to Le Temps newspaper. The Geneva public prosecutor's office confirmed the complaint and said it's being examined, declining to comment further.
Switzerland said Friday that it's introducing a registration ban on Volkswagen, Audi, Skoda and Seat diesel models built between 2009 and 2014 -- new and used -- on Oct. 5 that will probably affect about 130,000 vehicles.
Volkswagen shares were trading 3.2 percent lower at 11:40 a.m. in Frankfurt. The stock is down 49 percent this year.
Before it's here, it's on the Bloomberg Terminal.
LEARN MORE