U.S. Economy Imperiled by Gridlock on Spending, Obama Says
By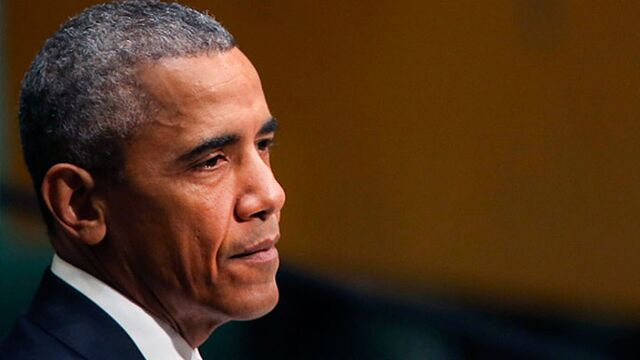 President Barack Obama said Friday he would not sign further stopgap bills to prevent a government shutdown, warning that gridlock on a full-year spending plan threatens U.S. economic growth.
Congress this week agreed on a short-term spending measure that keeps the government running through Dec. 11. Obama warned that further brinkmanship on the budget by lawmakers risks jarring an already skittish global economy.
"Even though the American economy has been chugging along at a steady pace, much of the global economy has softened," Obama said at a White House news conference. "Our own growth could slow if Congress does not do away with some of the counterproductive austerity measures they have put in place and if Congress does not avoid some of the manufactured crises that shatter consumer confidence."
Senate Majority Leader Mitch McConnell said Thursday that staff-level discussions on a broader budget deal had begun with the White House. The Kentucky Republican has said he'd like a two-year plan to avert the possibility of a government shutdown before the 2016 election.
"We'd like to settle the top line for both years so that next year, we could have a regular appropriations process," McConnell told reporters.
Boehner Retirement
Pressure on lawmakers to strike a deal has intensified since House Speaker John Boehner announced he would retire by the end of the month. The Ohio Republican said he wants to "clean the barn up" before he leaves Congress, signaling a willingness to negotiate on several outstanding issues including the budget. On Wednesday, Obama signed the stopgap spending bill.
"Keep in mind, that gimmick only sets up another manufactured crisis, two
weeks before Christmas," Obama said. "This is not the way the United States
should be operating."
Lawmakers also face a deadline in coming weeks to raise the government's borrowing authority. Treasury Secretary Jack Lew said in a letter to Capitol Hill on Thursday that the nation would be unable to borrow more money by about Nov. 5 unless lawmakers raise the U.S. debt ceiling.
If a deal is not reached this month, Boehner's replacement would have just five days to negotiate a debt-limit increase or risk the federal government defaulting on some obligations.
Obama said he would not indulge Republicans who aim to win concessions in exchange for raising the debt limit.
"If it gets messed with, it would have profound implications for the global economy and could put our economy in the kind of tailspin we saw in 2008," he said. "We're not going to negotiate on that. It has to get done in the next five weeks."
The framework McConnell seeks would be in keeping with a bipartisan two-year budget deal negotiated in 2013. White House officials have said they hope that agreement can serve as a template in the next round of talks.
The White House is wary, however, that McConnell is attempting to cut out Senate Democratic Leader Harry Reid and House Democratic Leader Nancy Pelosi.
Planned Parenthood
Some conservative Republicans have demanded that any spending plan eliminate funding for Planned Parenthood, the women's reproductive health service. Over the summer, an anti-abortion group released videos purporting to show executives from the group discussing compensation for providing tissue from aborted fetuses to researchers.
Cecile Richards, president of Planned Parenthood Federation of America, said in a congressional hearing on Tuesday that only a small number of the group's clinics provide donated tissue for research. She has denied that the organization profits from the practice.
"I understand they feel strongly about it and I respect that," Obama said of Republicans concerned about the group. "But you can't have an issue like that potentially wreck the U.S. economy, any more than I should hold the entire budget process hostage" over gun control.
"I feel just as strongly about that and I think I have more evidence," he said.