U.K. FCA Mulls Deadline for $39 Billion Bank Redress Claims
by
Claims through management companies are `high and growing'

Plevin ruling may set precedent for more redress claims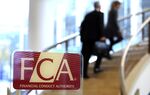 The U.K.'s Financial Conduct Authority may impose a deadline for consumers to complain about wrongly sold insurance products as it seeks to bring an "orderly conclusion" to redress claims that have cost banks about 26 billion pounds ($39 billion).
The FCA is considering action after seeing a rising number of complaints through claims management companies that charge fees for their services as well as a rising number relating to older sales, some from as far back as the last century, it said in a statement on Friday. An open-ended process is allowing potential claimants to postpone action, while a "significant number" of complaints are unrelated to PPI, the regulator said.
British banks have seen earnings battered by rising costs to compensate customers for payment protection insurance they didn't need or want. Lloyds Banking Group Plc has set aside about 13.4 billion pounds to date, more than any other U.K. lender, in the costliest banking scandal since the financial crisis. The lenders are now threatened by a Supreme Court ruling, known as Plevin, that may spark a new wave of redress for PPI.
Introducing a deadline would "prompt many consumers who want to complain, but have not yet done so, into action, resulting in them potentially getting redress sooner," the FCA said the statement. It would also "bring the PPI issue to an orderly conclusion, reducing uncertainty for firms about long-term PPI liabilities and helping rebuild public trust in the retail financial sector."
The deadline would give two years for complaints after the rule comes into force, which isn't expected until the first half of 2016, meaning consumers would have until at least early 2018 to file complaints, according to the FCA.
Lloyds shares rose 3 percent to 77.47 pence at 11:42 a.m. in London, the biggest jump since Aug. 25. Royal Bank of Scotland Group Plc advanced 2.3 percent to 326.60 pence, while Barclays Plc rose 2.4 percent to 253 pence.

The Which? consumer lobby group said the FCA should ensure that a deadline doesn't reward banks that are deliberately delaying payments.
"It's been clear for years that banks should be working much harder to resolve PPI claims fairly and a time limit must not reward those that have dragged their heels over paying out compensation," said Which? Executive Director Richard Lloyd. "If a timebar is introduced, the FCA must make sure all banks carry out a complete review of their PPI handling. Efforts must be redoubled to ensure that anyone missold PPI is given fair, speedy compensation so that people get back what they're rightly owed."
The FCA said it doesn't plan to require or expect firms to "proactively review" PPI sales. 
"We expect firms to deal with PPI complaints promptly and fairly," it said. "We will take action where firms fail to do so."
Martin Lewis, the founder and editor of the MoneySavingExpert.com website said the move was "disappointing" and questioned how the FCA could argue it was being done to protect consumers when the financial ombudsman upholds more than 70 percent of claims banks reject.
"To go to the Ombudsman you have to first complain to the bank – so it's likely banks are still wrongly rejecting claims, from over half of those who have been mis-sold," Lewis said in a statement. "The question must be asked is this due to pressure from George Osborne to protect Lloyds Bank which has most to lose from continued payouts?"
British banks could face as much as 33.5 billion pounds in provisions to compensate customers for undisclosed commission payments on products like car loans if the Plevin ruling is widely applied, analysts at Autonomous Research LLP have said. The deadline could also apply to complaints under Plevin, according to the statement.
Before it's here, it's on the Bloomberg Terminal.
LEARN MORE