Transaero on Brink of Collapse as Aeroflot Walks Out on Merger
by and
Russian government says not certain to offer bailout

Debts total almost $4 billion, creditor VTB Group says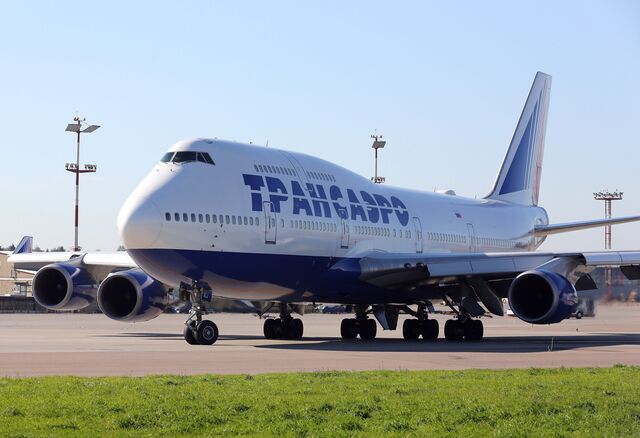 Transaero Airlines, Russia's second-largest carrier, is on the verge of collapse after a state-orchestrated combination with Aeroflot PJSC fell through, prompting the government to halt ticket sales.
Shares of Transaero dropped the most on record Friday after Russian Transport Minister Maxim Sokolov told reporters late Thursday that creditors hadn't agreed on a restructuring plan and that the company was unable to meet financial obligations and might not get a bailout.
Aeroflot said Transaero shareholders hadn't submitted proposals for it to purchase of 75 percent of its smaller rival plus one share, and that it had decided against extending the offer. Transaero has debt of 260 billion rubles ($3.9 billion), mostly from foreign currency leases on jets, and no more than 12 billion rubles of assets, according to VTB Group analyst Elena Sakhnova.
Transaero, which has a 12 percent share of the Russian air transport market, fell as much as 54 percent and closed down 42 percent at 15 rubles in Moscow.
'No Future'
VTB, Russia's No. 2 bank, is owned 12 billion rubles plus leasing costs, Chairman Andrey Kostin said Friday. Herman Gref, head of Sberbank PJSC, the country's biggest lender, said the airline has "no future" given the debt situation and that his bank is seeking companies to take over leased planes.
Most of the proceeds from asset sales would go to paying wages and taxes, with little if anything left over for the banks, Sakhnova said. No bankruptcy filings have yet been made, according to Transport Minister Sokolov.
Should Transaero fold, other Russian carriers will seek to win over passengers, though "competition in the market will decrease," said Denis Vorchik, an analyst at Uralsib Financial Corp. "Aeroflot will benefit most of all," he added. The No. 1 Russian carrier said on its website that it would honor Transaero bookings through Dec. 15 and that tickets already bought for travel after that date would be refunded at the point of issue.
Airbus Group SE said in August it was postponing the delivery of four A380 superjumbos to Transaero to help the carrier cope with slowing travel demand in its home market.
Transaero never firmed up contracts for 20 A330 planes after signing an outline deal at the Farnborough Air Show in 2014. Boeing Co. had said it too was negotiating alternative schedules. The Russian company has four 747-8 jumbos on order, with two due this year.
Before it's here, it's on the Bloomberg Terminal.
LEARN MORE