Can Stand-Up Comedy Bankroll the Golden Age of TV Drama?
Netflix, Amazon.com, and others are cashing in on a boom in comics to help support their expensive series habit.
By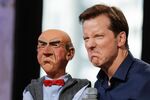 On Sept. 17, NBC broadcast a one-hour special featuring comedian and puppeteer Jeff Dunham. Stand-up, once the five-minute fare of late-night talk shows, had jumped to a big block of network prime time. What's more, it went up against NFL football, about the only thing left on TV that consistently dominates ratings like a 1970s mini-series.