Syria Says Air Strikes Not Enough Against Islamic State
by , , and
Putin has committed to airstrikes, not boots on the ground

Syria was the focus of UN talks where Russia and U.S. clashed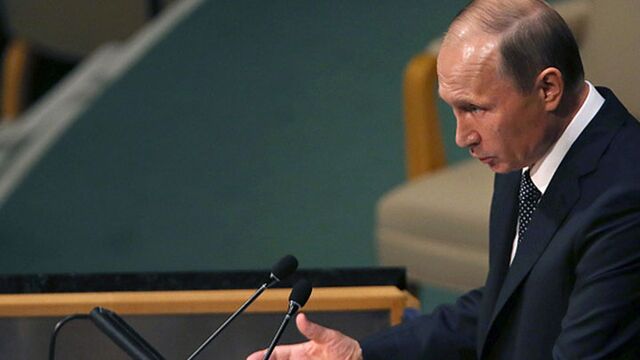 A loyalist of the Assad regime said "terrorism cannot only be fought from the air," making an appeal for more military involvement to defeat Islamic State.
In a defiant speech at the United Nations General Assembly in New York, Syrian Foreign Minister Walid al-Muallem criticized the current approach to fighting the group that has conquered swathes of territory and was encroaching on President Bashar al-Assad's coastal stronghold in Latakia. Those gains triggered Russian intervention.
"Air strikes are useless unless they are coordinated with the Syrian Arab army, the only force to combat terrorism," al-Muallem, who also holds the title of deputy prime minister, told a largely empty assembly hall on Friday, the last day of speeches.
Clashing Missions?
Russia's first military foray outside of the former Soviet Union in more than three decades, has surprised and angered the U.S. and its Western allies, who have made little headway in fighting extremists in separate air attacks. Dueling operations in a shared airspace as different sides pursue separate missions heightens the risk of accidents.
Al-Muallem said the Russian airstrikes, "which came after a request from the Syrian government and with the coordination with the Syrian government is an effective participation in support of the Syrian government in combating terrorism."
Syria's main opposition group accuses Russia of attacking non-extremist groups as means to prop al-Assad, who the UN blames for carrying out atrocities against his own people. Iranian military, including Revolutionary Guards and Lebanon's Hezbollah, have been active in Syria in support of Assad.
Meeting Putin
In Paris, at a meeting about the Ukraine conflict, Putin discussed his Syrian strategy with two key European leaders, Germany's Angela Merkel and France's Francois Hollande, before leaving for Moscow without making a public statement.
Merkel backpedaled from Sept. 23 comments, when she stressed al-Assad had a role to play in Syria peace talks. This time, she aligned herself more closely to Hollande's position that the Syrian strongman was the problem, not the solution. Both reminded Putin that Russia must only strike at the radical Islamist militant group.
"We have made jointly clear that IS is the enemy that must be combated," Merkel told reporters. "We cannot forget" what has happened in recent years in Syria and "that hundreds of thousands have lost their lives before IS was there and by what Assad has done to his people."
Russian forces are targeting only Islamic State, al-Qaeda affiliated Nusra Front and other terrorist groups, Foreign Minister Sergei Lavrov has said. The Free Syrian Army, a U.S-backed rebel group, was not among the targets and it should have a role in the political process in Syria, he added.
Russian air force jets made 18 air strikes on 12 targets during the past day, Russia's Defense Ministry said on Facebook on Friday. The bombing will last three to four months, Europe1 radio reported on Twitter, citing Alexi Pushkov, chairman of the International Affairs Committee in Russia's lower house of parliament.
Before it's here, it's on the Bloomberg Terminal.
LEARN MORE