Portuguese Head to First Election After Bailout Exit: Guide
by
Voting starts at 8 a.m. on Sunday, ends at 7 p.m. local time

Exit polls will be published by TV stations from 8 p.m.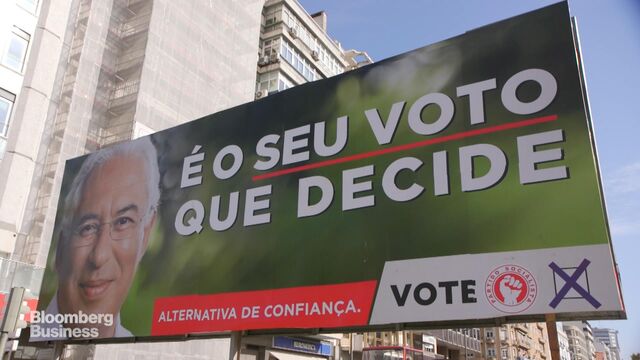 Portuguese voters go to the polls on Sunday in the first general election since 2011, choosing who will run the country for the first time since exiting an international bailout last year.
Prime Minister Pedro Passos Coelho, who leads the first coalition government to survive a full term in office since the country's four-decade-long dictatorship ended in 1974, is seeking re-election. He faces Socialist leader Antonio Costa, a former mayor of Lisbon, who proposes narrowing the deficit slightly slower than the ruling coalition. Coelho has said he wants an export-led recovery and Costa wants to reverse salary cuts sooner to "reinforce" families' incomes.
Here's a guide to the rules governing the voting and the process of forming a government afterward.
Who is running and where do votes count the most?
Voting begins at 8 a.m. and finishes at 7 p.m. local time. A total of 9.7 million citizens are eligible to cast ballots. Lisbon is the biggest of Portugal's 22 constituencies, electing 47 out of a total 230 seats. Next are Northern Portugal's Oporto and Braga, that will elect 39 and 19 members of parliament respectively. Voters outside Portugal elect four members of parliament.
Sixteen parties and coalitions are standing for election. Seats are allocated in proportion to the number of votes received, using the d'Hondt system. Currently, only six parties have seats in Parliament.
When do we know who won?
Exit polls will be published from 8 p.m. local time. Partial results will also start being reported after that hour on the Interior Ministry's website. Final results are reported within 10 days and published in the official gazette as many as 20 days after the elections.
What have polls been telling us?
The ruling coalition leads in all the latest polls, with 38 percent of the vote at most, falling short of a majority for which at least 116 seats are needed. In 2005, the Socialists led by Jose Socrates needed 45 percent of the vote to get 121 seats. In a speech in July, President Cavaco Silva asked parties to make an effort to negotiate possible coalitions if needed, as minority governments may face additional obstacles and have a slimmer chance of serving their full terms.

What if there isn't a ruling majority?
The prime minister is nominated by the president after hearing the other parties in Parliament and taking into account the election results, according to the constitution's wording. In 2011, Coelho's Social Democrats were the most voted party, with 108 seats, and formed a coalition with the smaller conservative CDS party to guarantee a majority in Parliament.
Once in office, the government needs to get its program approved in Parliament, without which it's limited to day-to-day management. Minority governments are able to survive as long as Parliament doesn't block key policies. In 2010, Socrates' minority government was able to pass its 2011 budget proposal after reaching an agreement with Coelho's Social Democrat Party, which abstained in the vote.
The prime minister's mandate starts when he is sworn in. In the last two elections, the government was sworn in within a month. The Parliament can't be dissolved six months after it's elected or in the last six months of the President's term, which is the case now as President Anibal Cavaco Silva faces elections in January 2016. Parliament cannot be dissolved before April 4, 2016.
Before it's here, it's on the Bloomberg Terminal.
LEARN MORE