Kazakh Weak Tenge Champion Challenges Central Bank to Open Up
by and
Halyk CEO says regulator must offer more clarity on new policy

Devaluation averted trade war with Russia, Shayakhmetova says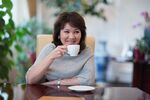 When Soviet authorities told Umut Shayakhmetova that as a woman, she couldn't help clean up after the 1988 Armenian earthquake, she defied them and traveled there anyway.
Now the head of Halyk Bank, Kazakhstan's second-biggest lender, Shayakhmetova's still challenging the government.
She's demanding more transparency from the central bank about its policy for the local currency after being the lone voice among bank executives calling publicly for a tenge devaluation for months.
"There must be clear rules of the game," Shayakhmetova, 46, said in a Sept. 16 interview, the day the central bank intervened in the market for the first time since the currency was set loose. "Everybody's frozen and waiting, including bankers, as we don't understand what's happening."
'Trade War'
The central bank raised its new base interest rate to tame the world's most volatile currency, increasing it to 16 percent from 12 percent on Friday. The central bank also narrowed the corridor for borrowing costs "to reduce volatility of money market interest rates and give more clear signals to the market," according to its statement.
The tenge fell 22 percent on Aug. 20 when Prime Minister Karim Massimov announced that Kazakhstan would move to a free-floating currency after a plunge in oil prices and devaluations in Russia and China, its two largest trading partners. Without devaluation, Kazakhstan would have had to close its border with Russia, where the ruble has lost about 40 percent against the dollar in the past year, to avoid a "trade and currency war," Shayakhmetova said. The economy needs a clear monetary policy after the foot dragging, according to the executive.
Kairat Kelimbetov, the country's chief monetary policy maker, said in August that the exchange rate would reach a balance in five to seven days. The tenge, which had traded in a band around 185 to the dollar, has swung between 208 and 300 per dollar since then, and the central bank has spent more than $1 billion to smooth the fluctuations.
Tenge Turbulence
The turbulence in Kazakhstan means there can be no promises about the exchange rate, Kelimbetov said in a Sept. 18 interview with Panorama newspaper, confirmed by the central bank.
Shayakhmetova urged the central bank to publish data on net dollar sales and purchases in the market, as well as exchange rates since Aug. 17, saying the regulator should be "consistent" in releasing information.
Halyk will suffer from the devaluation because about 70 percent of its deposits are in dollars, Shayakhmetova said in an initial interview in June. That hasn't damped her plans to make Halyk, whose name means the People's in Kazakh, the country's biggest bank within two years, building up mobile technology to target younger clients.
Luring Customers
In her more than six years at the helm of Kazakhstan's most profitable lender, Shayakhmetova has stood up to many of the oil-rich republic's powerful men. She joined Halyk, which is owned by President Nursultan Nazarbayev's daughter Dinara and son-in-law Timur Kulibayev, as deputy chairman in 2004 after seven years at ABN Amro Bank Kazakhstan. She fought off a merger with state-owned BTA, as it slid toward a second default in 2013, and called for the central bank to weaken the tenge even as Nazarbayev promised there would be no sharp devaluation.
One of her first big successes for Halyk came at the height of Kazakhstan's banking crisis in 2009 amid a global financing crunch, when she flew to the Karaganda region, once a place of exile for Soviet-era political prisoners and criminals, to lure customers from BTA. Managers at Arcelor Mittal Temirtau allowed her speak to employees at the steel producer's foundry, where she lured dozens of employees the first day. Within two years about 70 percent of the 35,000 workers had switched to Halyk, she said.
'Dark Room'
Shayakhmetova, Halyk's longest serving CEO after the Soviet collapse, shows "common sense, professional skills, honesty and personal decency" that would make her a good minister, Aidan Karibzhanov, co-owner of Visor Capital investment bank and a former executive at the Samruk-Kazyna sovereign wealth fund, said in June.
The daughter of a former ambassador and a mother of three, Shayakhmetova said she'd consider an offer to join the government -- none has been made yet -- or perhaps parliament after retiring from banking. For now, she's calling on leaders to stop relying on Kazakhstan's oil and mineral wealth and focus on economic development.
"Maybe we need to lock all the main figures from government, the central bank and business in a dark room and tell them they won't be let out until they agree on a plan," she said. "They may sit there for three weeks, but we'd get something to work with."
Before it's here, it's on the Bloomberg Terminal.
LEARN MORE