Investors Are Asking Tough Questions About 'Yieldcos'
Concerns raised following years of capital influxes into energy.
By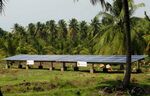 The website of SunEdison, the renewable energy company, is a virtual smorgasbord of sunshine and light. "Solar perfected," reads one slogan splashed across the page. "Welcome to the dawn of a new era in solar energy," reads another banner over a pink-hued sunset.