politics
Hillary Clinton Lets Big Banks Off the Hook for Financial Crisis
The Democratic front-runner has not been nearly as critical of large financial institutions as some in her party.
By and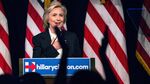 Hillary Clinton's explanation of what caused the 2008 financial crisis contains a notable omission.
Throughout the 2016 presidential primary campaign, Clinton has taken a markedly less critical view of large financial institutions like Citigroup Inc. than Democrats like Elizabeth Warren and presidential rival Bernie Sanders. Instead, Clinton has placed the blame on "shadow banking," a term she has used to describe hedge funds and high-frequency traders.
"Her comments on their face are wrong," said Christopher Whalen, senior managing director at Kroll Bond Rating Agency and author of Inflated: How Money and Debt Built the American Dream. "It is incorrect to blame the crisis on shadow banks. You can't really differentiate between what they were doing and what Citi was doing."
Unlike many in her party, when Clinton recounts the events that caused the global financial meltdown, she casts Lehman Brothers Holdings Inc. and American International Group Inc. as the primary villains.
"A lot of what caused the risk that led to the collapse came from institutions that were not big banks," she told the Des Moines Register. And when actress/director/writer/cultural whirlwind Lena Dunham challenged her ties to Wall Street this week, Clinton said the problem with those who call for breaking up the giant lenders is "a lot of the problems were not from these traditional banks."
In Clinton's hot-coals dash through financial topics, she's trying to criticize financial titans enough to satisfy her party while also taking campaign money from bankers. Any soft spot for big banks puts her at odds with the party's left flank. Sanders authored a bill in May to shrink such banks as JPMorgan Chase & Co. and Goldman Sachs Group Inc., and Warren remains the loudest critic of Wall Street, having introduced a bill to rebuild the Glass-Steagall wall between companies' financial activities that Clinton's husband breeched as president.
Deflecting blame from the banks also raises the question for Clinton: What about the crisis woes of firms such as Citigroup Inc., which has long been among her banking supporters? The lender and its employees have been the No. 1 contributor to her political career, giving more than $800,000—even during the period she told Dunham she "took on Wall Street" as a senator from New York. And two of Citigroup's fellows in finance have stepped in as top-10 donors to the Democrat's presidential run: Morgan Stanley and JPMorgan.
"If you don't think Citibank was center to this crisis, it's hard to imagine why we spent billions bailing them out," said Robert Borosage, co-director of the liberal Campaign For America's Future, who referred to Clinton as "Wall Street's favorite Democrat." 
Senator Sherrod Brown, the top Democrat on the Banking Committee, has hammered the biggest banks from Capitol Hill and isn't about to let them off the hook for the crisis, even as he said he's "not going to get in a fight with Hillary."
"There is plenty of responsibility to go around," he said in an interview. "Big banks are part of it."
Barney Frank, the former Massachusetts congressman of Dodd-Frank fame, backed up Clinton's view, saying the crisis wasn't about how big the banks were. It was about the derivatives activity, he said in an interview, adding that non-bank lenders "were much worse than the banks."
"She's actually right to say that it was not the traditional banking," he said.
Though there's plenty of bank loathing in the Democratic base, Clinton, whose campaign did not return a request for comment for this article, has been so far ahead in the 2016 primary that she hasn't been under pressure to breath fire at the Jamie Dimons and Lloyd Blankfeins. With Vice President Joe Biden waiting in the election wings, though, it's possible that leeway won't last. Biden now counts among his advisers former Senator Ted Kaufman, who pushed alongside Brown for a cap on how big banks could be.
Bankers and the lawyers who love them deserve some credit for Clinton's considerable war chest, which took in $28 million in third-quarter donations, her campaign announced Wednesday. (Sanders was just $2 million behind, according to his own campaign announcement, though his cash tends to come in a stream of smaller, online donations. Wall Street isn't a fan.)
Before the banks kick back and coast through the 2016 election, though, Clinton has also waged a booster campaign for the Dodd-Frank Act, which she's said should be thought of as just a beginning.
From her opening speech on economic policy in July, Clinton has maintained a delicate balance between talking tough on the financial industry and staying clear of detailed promises. She said she'd appoint regulators who understand that the biggest banks are still seen as too big to be allowed to fail, and she said that individuals should be prosecuted more when they go astray within their firms. Clinton argued that the government relies too much on slapping the banks with large fines while "the human beings responsible get off.''
But nobody would mistake her views for those of Sanders or Warren—who seems to relish her role as the scourge of Wall Street. Warren said in an April speech that "if the big banks keep calling the shots, they will own both our economy and our democracy."
Borosage attached a practical purpose for Clinton's recent sympathy with the bankers: "I assume she said it as she was heading into her fund-raising surge."
—Zeke Faux contributed to this article. 
Before it's here, it's on the Bloomberg Terminal.
LEARN MORE