Glencore's Chaotic Week of Stock Volatility Set to End in Calm
by
Singapore, Mitsui said to be interested in agriculture unit

Stock had slumped to lowest ever on concerns about debt load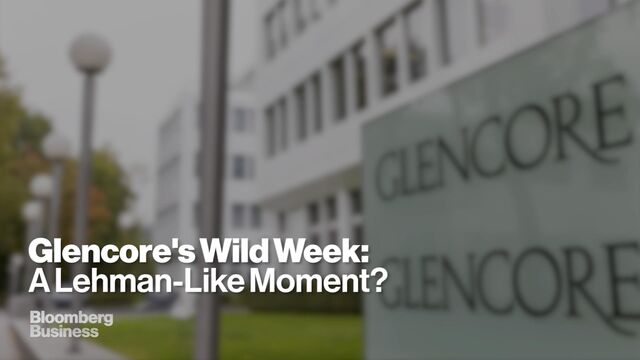 Glencore Plc shares took a breather after whipsaw swings this week that sent volatility to the highest on record.
The commodity miner and trader advanced 3.2 percent to 93.91 pence by 1:21 p.m. in London, paring this week's decline to 3.3 percent. An unprecedented 29 percent plunge on Monday was followed by a two-day surge that recovered much of those losses as analysts said the drop had left shares undervalued.
The stock jumped after Bloomberg News reported Singapore's sovereign wealth fund, Japan's Mitsui & Co. and at least one Canadian pension fund have expressed interest in buying a minority stake in Glencore's agriculture business, according to two people familiar with the conversations. The company has still lost more than two-thirds of its value this year as commodities prices tumbled and a slowdown in China cut demand.

Glencore is in the middle a debt-cutting program that Chief Executive Officer Ivan Glasenberg announced last month. The plan includes a $2.5 billion stock sale, asset disposals, spending cuts and suspending thedividend.
"You have a very highly-indebted company," Ashok Shah, investment director at London & Capital Group Ltd., said in an interview on Bloomberg Television. "If the cash-flows are under attack, basically it is a matter of time before the downgrade cycle sets in and the cost of capital begins to rise."
Glencore's 60-day historical volatility, a measure of share-price swings reached 113 on Friday, the highest on record, data compiled by Bloomberg show.
Rival mining company Anglo American Plc also saw its shares slide this week, dropping 8.4 percent, a bigger decline than Glencore. The world's two-biggest miners BHP Billiton Ltd. and Rio Tinto Group have gained 1.1 percent and 1.2 percent, respectively.

As panic spread this week, investors turned to Glencore options, sending their volume to a record this week. An average of 12,000 contracts traded each day. On Monday alone, 15,380 puts changed hands, the most ever, compared with 11,771 calls.
At its height in 2014, Glencore was worth more than $85 billion after its $29 billion all-share takeover of Xstrata Plc, then the world's biggest coal exporter. Now, the market value has shrunk to about $20 billion as investors fled the business, which carries more debt than its rivals to fund its trading operations.
The company, based in Baar, Switzerland, trades everything from wheat to oil to cobalt. It's the biggest exporter of power-station coal, with more than 30 mines in Australia, Colombia and South Africa and is among the top three agricultural exporters in Russia, the European Union, Canada and Australia. It also controls more than 150 mining and metallurgical, oil production and agricultural assets and employs about 180,000 people.
Peter Grauer, the chairman of Bloomberg LP, the parent of Bloomberg News, is a senior independent non-executive director at Glencore.
Before it's here, it's on the Bloomberg Terminal.
LEARN MORE