El Nino Seen Curbing Indonesia's Coffee Harvest 10% After Record
by and
Output may fall to 581,000 tons next year: Bloomberg survey

Robusta represents more than 80% of Indonesia's production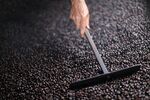 Coffee output in Indonesia, the world's third-biggest producer of robusta beans, will probably drop 10 percent next year from a record in 2015 as the strongest El Nino in almost two decades hits crops.
Indonesia may reap 581,000 metric tons of beans in the year starting April 1, 2016, down from 645,000 tons this year, according to the median of six estimates from analysts and traders compiled by Bloomberg.
El Nino is the strongest since 1997-98 and will peak around the end of the year, according to Australia's Bureau of Meteorology. The weather pattern, which bakes Asia and alters rainfall across the Americas, will be particularly felt in Indonesian coffee areas, according to Rabobank International. The event has already caused crop losses in Central America and is forecast to cut palm oil output in the biggest growers -- Indonesia and Malaysia.
"Out of all the effects that El Nino has on coffee production worldwide, its effects on Indonesia are the most likely," Carlos Mera, an analyst at Rabobank in London, said by e-mail. "El Nino has been making the south of Sumatra very dry and it is expected to keep doing so for the remainder of 2015."
Robusta futures have fallen 18 percent this year on ICE Futures Europe in London and traded at $1,567 a ton on Friday. Arabica coffee beans have dropped about 27 percent in New York over the same period.
Long-Term Concerns
"We will have to wait and see how the weather keeps developing during the early stage of crop development in Indonesia," Mera said, adding that further dry weather would support robusta prices.
There are long-term concerns about dry conditions in southern Sumatra, according to a Sept. 29 note from MDA Weather Services. Rains will need to return in the areas in coming weeks in order to support early flowering of coffee, MDA said.
"People are worried about a failed harvest," Moelyono Soesilo, purchasing and marketing manager at PT Taman Delta Indonesia, a Semarang, Central Java-based coffee trader, said in text message Sept. 28. "The condition is really critical, leaves in some plantations in Java are yellowing and will soon dry out and fall off."
October Crucial
Conditions in October are crucial, as without significant rain this month, output could drop by 20 to 25 percent next year, Moelyono said. The losses would be even greater should the dry weather persist until the year end, he said.
The provinces of Lampung, Bengkulu and South Sumatra are the main robusta areas in Indonesia, producing about 75 percent of the country's output. Beans from the area are shipped from Panjang port in Lampung. Arabica is grown mostly in northern Sumatra and Java and was 16 percent of the total harvest in 2014-2015, U.S. Department of Agriculture data show.
Flowering has started in southern Sumatra and trees need rain to start producing beans in December for the next harvest, Theng Hong Sioe, a deputy chairman at the Association of Indonesian Coffee Exporters and Industries, said by phone.
Coffee crops in Indonesia have already been hurt by the drought, Drew Lerner, the president of World Weather Inc. said by phone Sept. 24. While this is the end of dry season, and rains could come later this year, "it's drier than normal, so it's very important rains return pretty quickly" to prevent further losses, he said.
Before it's here, it's on the Bloomberg Terminal.
LEARN MORE