business
Coca-Cola Calls for FIFA's Sepp Blatter to Step Down Immediately
By
Blatter refuses to yield to calls from Coke, McDonald's, Visa

Internal ethics committee could force FIFA's president to go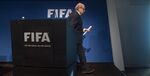 Top sponsors of FIFA called for Joseph "Sepp" Blatter to step down immediately as president of soccer's governing body following a sweeping scandal involving allegations of bribes and kickbacks dating back decades.
Shortly after Coca-Cola Co. issued a demand for Blatter to go on Friday afternoon, FIFA's other U.S.-based backers -- Visa Inc., Anheuser-Busch InBev NV and McDonald's Corp. -- followed suit, all saying that meaningful reform is impossible under the current leadership.
Blatter's departure would allow a "credible and sustainable reform process" to begin, Coca-Cola said in its statement. "Every day that passes, the image and reputation of FIFA continues to tarnish."
The moves follow the announcement last week by Swiss prosecutors that they have opened a criminal probe into the 79-year-old Blatter, who has led FIFA since 1998. He has denied any wrongdoing and said on Friday that he wouldn't leave office before a scheduled special election in February.
"While Coca-Cola is a valued sponsor of FIFA, Mr. Blatter respectfully disagrees with its position and believes firmly that his leaving office now would not be in the best interest of FIFA nor would it advance the process of reform " said Richard Cullen, Blatter's attorney."Therefore, he will not resign."
'Rampant' Corruption
Blatter was re-elected to the post on May 29. Four days later, he announced his plans to leave office this winter, amid a crisis sparked by a U.S. Department of Justice indictment that accused several senior current and former FIFA officials of engaging in "rampant" corruption dating back to 1991.
FIFA could force Blatter to go. He is currently the subject of an investigation by an internal ethics committee, which could decide to suspend him, effectively ending his tenure.
Coca-Cola, which spends more money on FIFA and the World Cup than it does on any other sport, including the Olympics, has a long history as one of FIFA's top sponsors and a relationship with Blatter that goes back 40 years. Blatter was plucked from relative obscurity in 1975 to lead a FIFA's then-new global development program, funded by Coca-Cola. It was called Project One, and its purpose was to spread the gospel of soccer to corners of the world where the sport was not the powerhouse it had become in Europe and South America -- and to provide Coke with a global audience.
"The whole foundation of FIFA and Blatter is built on the foundation of the marketing skills of the Coca-Cola company," Patrick Nally, an Englishman whose marketing company West Nally was part of a group that hired Blatter to lead the program, said in a phone interview. "No Coke, no Blatter."
Today, the relationship is more visible than ever. Part of the current marketing agreement -- worth about $100 million per four-year World Cup cycle -- gives Coca-Cola the opportunity to take the World Cup trophy on a sponsored tour. It's made stops in 145 countries since 2006.
FIFA's finances have also exploded during this time. The quadrennial World Cup brings in more than $5 billion, about 30 percent of which comes from marketing sales, including deals with Coke, McDonald's and Adidas AG. Contributions from TV companies that broadcast the 32-team event account for 43 percent of FIFA's revenue and provide the platform for sponsors to blitz viewers around the globe.
Sponsors' Duty
Hours before Coca-Cola released its statement, Transparency International, one of FIFA's harshest critics, told Bloomberg News that the sponsors had a huge responsibility to force change at the beleaguered soccer governing body.
"Money is central to FIFA's corruption problems,"  Cobus de Swardt, managing director of Transparency International, said in an e-mail. "Sponsors provide a substantial amount to FIFA and as such should be particularly concerned about corruption in FIFA."
Coca-Cola had informally been associated with FIFA since the first World Cup, when its drinks were sold to spectators in Uruguay in 1930. Coke-branded boards started appearing on fields in the 1950s, but the relationship wasn't formalized until 1974. That's when Coke's support for FIFA's global development project made it the organization's first sponsor to pay for a partnership with FIFA.
Shortly after Blatter's election victory in May, Coca-Cola wrote a strongly worded letter urging action and asked FIFA to report back on its plan to address the allegations of corruption. Since then, officials from the company have been in regular communication with FIFA's management. That has included trips to its Zurich headquarters to hear firsthand the plans for reform.
Coca-Cola spends two or three times as much on FIFA World Cup advertising and other marketing than it does on securing the sponsorship contract itself, according to Tony Ponturo, former head of sports marketing for Anheuser-Busch, whose Budweiser brand is one of FIFA's sponsors. The majority is spent on buying airtime to broadcast ads linked to the tournament. Under its deal with television companies that buy the rights to the World Cup, FIFA partners get a first right of refusal to air their commercials with individual rights holders. 
Football Association Chairman Greg Dyke described Friday's developments as a "game-changer," in a BBC interview.
"It doesn't matter what Mr. Blatter says now," he said. "If the people who pay for FIFA want a change, they will get a change. For those of us who want fundamental change, this is good news."
Before it's here, it's on the Bloomberg Terminal.
LEARN MORE