American Jobs Machine Sputters as Global Woes Chip at Growth
by
Jobless rate holds at seven-year low as people leave workforce

Revisions cut combined 59,000 jobs from July and August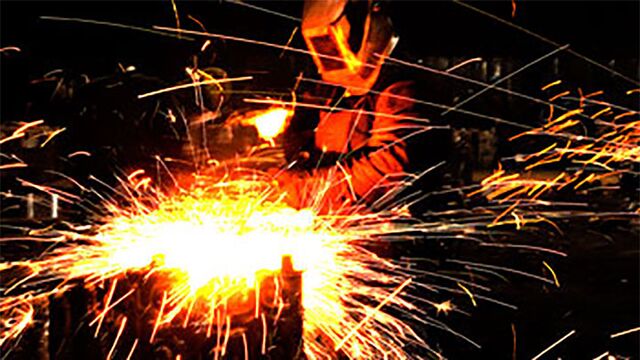 Global woes are starting to trip up the U.S. economy.
American employers added 142,000 workers to payrolls in September, less than the lowest estimate of 96 economists surveyed by Bloomberg, figures from the Labor Department showed Friday in Washington. The jobless rate held at a seven-year-low 5.1 percent as people left the labor force, wages stagnated and revisions cut the job count in prior months.

The turmoil in financial markets triggered by the overseas slowdown centered in China may cause companies to take on less staff, raising concern that consumer spending -- which has helped shield the U.S. -- will cool. The weak report vindicates the Federal Reserve's decision to hold off on raising interest rates last month, and may even delay any increase until 2016.
"It's a return to risk aversion, companies are retreating back into their shells a bit," said Nariman Behravesh, the Lexington, Massachusetts-based chief economist for IHS Inc. and the top payroll forecaster over the past two years, according to data compiled by Bloomberg. "It's starting to concern me a little bit. I'm not throwing in the towel, but it's something that gives us pause."
Treasury securities rose, pushing the yield on the benchmark 10-year note down to 1.98 percent at 3:25 p.m. in New York from 2.04 percent late on Thursday as the report raised concern the U.S. economy will slow. The Standard & Poor's 500 Index climbed 1 percent to 1,942.98.
Fed Outlook
The disappointing jobs report diminished the odds of a Fed interest-rate increase this year, economists said. The data all but ruled out a move this month, and although a December rate hike remained a possibility, it was a less likely option than before the report, they said.
"We are not likely to fall into recession, but with maybe a third of the nation's economy contracting, does the Fed really want to raise interest rates and make it worse?" said Mark Vitner, a senior economist at Wells Fargo Securities in Charlotte, North Carolina. He cited mining, manufacturing, agriculture and energy as industries that are in decline.
The employers that best sustained gains in hiring, including retailers and leisure and hospitality companies, indicates those most exposed to U.S. consumer spending are still holding up.
Consumer Spending
Gains in auto and home sales, powered in part by strong hiring, could cool should employment lose momentum.
"Consumer spending growth has been fairly robust until now," Behravesh said. "With these kinds of numbers, it raises the question of whether that pace can be sustained."
If September's hiring slowdown wasn't disappointing enough, revisions cut a total of 59,000 jobs from payrolls in the previous two months.

The wage picture was also dim. Average hourly earnings for all employees fell by a penny in September from the prior month to $25.09, the report showed. They increased 2.2 percent over the past 12 months, the same year-over-year change as in August. They've posted a 2 percent gain on average since the current expansion began in mid-2009.
The unemployment rate, which is derived from a Labor Department survey of households, was the same as in August, which was the lowest since 2008.
The low reading, however, wasn't without its own blemish. Joblessness remained low as people left the workforce, pushing the participation rate down to 62.4 percent, the lowest since October 1977, from 62.6 percent.

The report "is a little more evidence that things are perhaps stepping down a bit," said Michael Feroli, chief U.S. economist at JPMorgan Chase & Co. in New York. "A lot of global hopes were pinned on the U.S. outperforming, so this may reverberate around the world as policy makers look to the U.S."
Among the only positive signs in the report was a figure showing fewer people were forced into jobs offering less than a full workday. The number of Americans working part time who would prefer a full-time position decreased to 6.04 million, the least since August 2008, from 6.48 million.
The underemployment rate -- which includes part-time workers who'd prefer a full-time position and people who want to work but have given up looking -- dropped to 10 percent, the lowest since May 2008, from 10.3 percent.
Obama administration officials highlighted the positive trend in hiring.
"We've grown accustomed to hitting doubles and triples and in some months you hit a single," Labor Secretary Thomas Perez said in a phone interview from Washington. The September payrolls report was "a solid single, but a single nonetheless," he said, using a baseball analogy.
Fed Outlook
The gap between the unemployment rate and the underemployment rate is one reason Fed Chair Janet Yellen and other policy makers have said that when the time comes to increase interest rates, they'll do so only gradually.
In a speech last week Yellen said there are still people seeking full-time work who could be pulled back into the labor force if the jobless level fell further. She noted that "may involve a temporary decline in the unemployment rate somewhat below the level that is estimated to be consistent, in the longer run, with inflation stabilizing at 2 percent."
In their meeting last month, policy makers projected this long-term rate was 4.9 percent, according to officials' median forecast.
Central bankers delayed raising their benchmark interest rate in September. It's been near zero since December 2008. Officials next meet on Oct. 27-28, and Yellen has been among those saying an increase this year remains on track.
Before it's here, it's on the Bloomberg Terminal.
LEARN MORE