Women in Iran Are Ready to Show They Mean Business
Women in Iran are ready to make career gains in a way few of their peers can in the Gulf Arab world.
by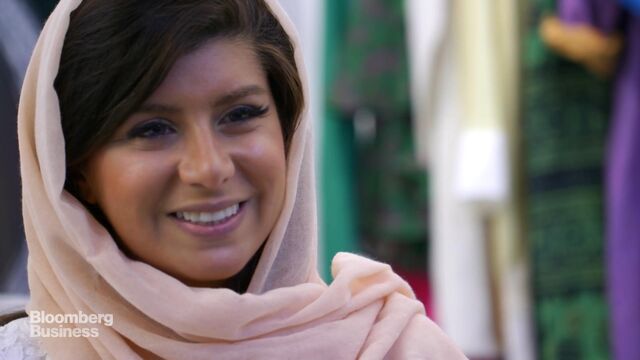 Iranian money manager Mona Hajialiasghar got her first big career break the same year the world took notice of her country's nuclear ambitions.
Thirteen years after starting out as an asset manager in Tehran, she's chief operating officer of Kardan Investment Bank, which oversees about $300 million invested in Iran. As her country edges toward an historic agreement that promises to plug it back into the global economy, she already sees more women joining her.
"The presence of women in Iran in the workplace and in higher education is much more serious now compared to when I first started," said Hajialiasghar, 35, who has a master's degree in business management from Iran's all-female Alzahra University. "With younger women entering the market, firstly their numbers are much higher, but also their confidence is much higher."
Iran is counting on the accord curbing its nuclear program to unleash billions of dollars in investment from the U.S. and Europe. As companies expand, women are ready to make gains in a way few of their peers can in the Gulf Arab world and narrow the gap with western nations.
Sweet Spot
While women have been legally obliged to cover their hair and observe Islamic rules of modesty in clothing since the Islamic Revolution in 1979, they have never faced limitations when it comes to driving, voting and access to education. They also occupy some top political jobs – three of President Hassan Rouhani's vice presidents are women.
The nuclear deal "means economic empowerment for women in Iran," said Suzanne DiMaggio, director of the Iran Initiative at New America Foundation in New York, a not-for-profit research organization. "Already today there are more women than men studying at Iranian universities, and they also work for a living and can own businesses and vote, so once sanctions are lifted and Iran reintegrates into the global economy, that should help women."

Government figures show 72 percent of working women in Iran are employed by private enterprises. That's the area of the economy that's set to burgeon after sanctions stifled business, according to Shahindokht Molaverdi, one of the country's three female vice presidents.
"In the way that war takes its first victims from women and children, sanctions do the same thing," she said in her office in Tehran. Female employment is now key to meeting Iran's economic growth targets, she said.
Same Issues
While Iranian law protects equal pay in government jobs and there's maternity leave of as long as 12 months in some departments, women in Iran face much of the same problems as they do in the western world.
There are disproportionately fewer of them in the executive suite after making up more than half of university places. They also suffer from a higher rate of unemployment, which at 19 percent is more than twice the figure for men, according to Iran's National Statistics Organization.
Access to quality jobs may be better for women in Iran than in the Gulf Arab states, yet women account for about 18 percent of the labor force, barely higher than Saudi Arabia and below Pakistan, according to statistics from the World Bank. In Turkey, a non-Arab Muslim country also with a population of about 80 million people and demographic similarities, the figure is above 30 percent.
Saudi vs Iran
Compared with other societies underpinned by sharia law, at least Iranian women have a better chance of entering the job market. In Saudi Arabia, the dominant Sunni Muslim counterweight in the region to Shiite Iran, women began entering the labor force in serious numbers only in 2010.
King Abdullah, who ruled Saudi Arabia from 2005 until his death in January, allowed women to work in retail — even lingerie and cosmetics stores were the domain of men — and eased business travel by letting them stay at hotels without male permission. They are barred from officially working alongside men and from the top political positions. Women also remain banned from driving.

That's not the case for Fatemeh Moghimi in Tehran. She started her trucking business 26 years ago after finishing a degree at City University in London during the Islamic Revolution. She's the first woman to be elected to the board of directors of the Tehran Chamber of Commerce and Industry and she employs several women as drivers.
"I was worried, because I wanted to start my business," Moghimi, 57, said in an interview at her office at the Tehran Chamber of Commerce and Industry, where she spends her Saturday mornings mentoring dozens of mostly female entrepreneurs. "It took two years. I came across a lot of cultural barriers, with the mindset of people, rather than legal barriers."
Women in Finance
When it comes to finance, Hajialiasghar is leading the charge for a growing number of women whom top bankers say are increasingly filling the ranks of their companies.
Kardan's chief executive officer, Majid Zamani, said that across Iran's nine investment banks, the presence of women is high compared with other industries and in some cases it even outnumbers men like himself.
"I'd say this is definitely the case in the capital markets in Iran," Zamani said. "We're looking for dedicated, committed people and contrary to what's sometimes the public perception, women tend to be the strongest candidates in this regard."
With assistance from Carol Hymowitz in New York
Before it's here, it's on the Bloomberg Terminal.
LEARN MORE