Why Lottery Winners Are Getting Stiffed in Illinois
The state has racked up billions in IOUs since its budget lapsed in July.
By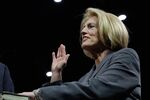 In July, Danny Chasteen scratched off an Illinois Lottery ticket to reveal a $250,000 prize. The factory supervisor from Oglesby, about halfway between Chicago and Peoria, was delighted—until he tried to turn in the ticket and learned that lottery payouts are suspended until Democratic legislators and the state's Republican governor, former private equity investor Bruce Rauner, can agree on a budget for the current fiscal year. Chasteen, who's suing the state, joins a growing number of creditors, including state employees whose health premiums aren't being covered and private vendors who haven't seen checks since the last budget ran out on July 1. "People are spending thousands of dollars a day on lottery tickets, and they don't get paid?" says Chasteen's girlfriend, Susan Rick. "That's illegal, and that's fraud."
The pile of IOUs is worth $6 billion and growing. State Comptroller Leslie Geissler Munger estimates the total could reach $8.5 billion by yearend. The state was sued on Sept. 18 by a coalition of public employee unions, led by the American Federation of State, County, and Municipal Employees, which wants to force Illinois to resume health-care payments for 149,000 workers, retirees, and dependents. "This can't continue," says Anders Lindall, a spokesman for AFSCME Council 31.
Income tax increases approved in 2011 expired at the end of last year, cutting state revenue by a projected 18 percent. Democrats are insisting on raising taxes to close the gap, while Rauner, who took office in January, says he'll consider approving tax hikes in return for reforms that would limit the bargaining power of public-employee unions. The state is running on temporary authorizations that cover some spending, but Munger has told courts that who gets paid and who doesn't is up to the legislature. So far, public schools have remained open, and state employees continue to receive paychecks. Judges have enforced a dozen court orders and consent decrees forcing the state to pay for Medicaid and social service programs, including programs for children with developmental disabilities.
Munger, whose office declined an interview request, has said she gets 5,000 phone calls a week from people looking for checks. A former marketing executive, she was appointed by Rauner in January. He tapped Munger after her Republican predecessor, Judy Baar Topinka, died of complications from a stroke, five weeks after winning reelection. In public appearances, Munger compares the challenge of rescuing Illinois's finances to her efforts to revive the Suave shampoo brand at Helene Curtis, which was bought by Unilever in 1996. (Munger left in 2001.) "We got rid of that old screw-off cap and put on a flip-top cap," she said in a Sept. 16 speech at the City Club of Chicago. "We put in a very aggressive marketing campaign. And most importantly, we took our price down." She argued the same principles apply to government. "It starts with balancing the budget," she said.
Munger, who lost a campaign for a seat in the state legislature last November, is expected to run next year to fill out her term. "She takes the old 'mad as hell and I'm not going to take it anymore' approach to the state's fiscal health," says Jim Durkin, the Republican leader of the Illinois House. Carol Portman, president of the Taxpayers' Federation of Illinois, a nonpartisan policy group, says a budget will get passed only if ordinary citizens start to feel the pain. "The public pressure isn't there," she says.
The bottom line: Illinois is entering its fourth month without a budget, and the crisis shows no sign of being resolved.
Before it's here, it's on the Bloomberg Terminal.
LEARN MORE