These Charts Show the Big Change in Chinese Corporate Debt Since 2007
Falling commodities prices are worsening China's corporate debt dynamics.
by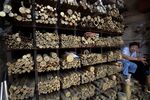 Can you paint with all the colors of China's collapsing corporate commodities complex?
Yes, answered the analysts at Macquarie Research.
Here is the result.

Using data culled from the bond prospectuses of 780 companies, Macquarie analysts led by Chen Shao looked at China's corporate debt servicing burden—or how much money the companies have to spend to repay their lenders—across a range of sectors and industries. Specifically, they look at the companies' debt coverage ratios, defined as interest payments owed divided by annual earnings before interest and tax.
The bigger the score, the badder (more expensive) a company's debt servicing costs are compared with its earnings. Each company is shown in the chart above with a little bar, color-coded by sector, and wider or narrower depending on the size of its outstanding debt. Of note are the many mining companies, in red, that now boast debt service ratios above the 100 percent level—meaning their interest costs are higher than annual earnings.
If you're curious how this 2014 version compares with older trends, well, stick with us.
Here's 2013's version, whose colors and curve broadly resemble the 2014 version. Of note, however, is that the cumulative debt as shown on the x-axis has increased by about 2 trillion yuan from 2013 to 2014.

And here's a 2007 version, which paints a vastly different picture in which infrastructure companies, in light blue, boast some of the highest debt servicing costs, but the overall pileup of debt is much, much smaller.

As the Macquarie analysts put it: "Not only did the total debt of companies in the sample increase almost four times during the period 2007-14, but the percentage of uncovered debt has also ballooned, and financial vulnerability has spread to many more sectors in this period." 
Before it's here, it's on the Bloomberg Terminal.
LEARN MORE