The Delinquent Borrowers Leading a Student Loans Revolt
Activists want to turn billions in unpaid student loans into a catalyst for political action.
By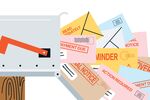 When the U.S. Department of Education announced in June the creation of a formal process for students defrauded by their college or university to seek loan forgiveness, it was a victory for the activist group Debt Collective. The impact of the policy could be huge: Granting forgiveness to everyone who in the past five years attended Corinthian Colleges—the for-profit company that filed for bankruptcy in May amid charges of predatory behavior—would wipe out $3.2 billion in debt owed to the U.S. government.
For members of the Debt Collective, which has been fighting for loan relief since its founding last year, it wasn't nearly enough. The piecemeal approach of requiring individual borrowers to apply for loan forgiveness seemed unacceptably burdensome. "The right thing to do would be to issue a classwide discharge and understand that this happened to a group of people," says Ann Larson, 41, one of the organization's leaders. "No one who is paying attention can possibly think that the Department of Education is doing all it can." The Debt Collective's overarching goal, she says, is to persuade the millions of Americans who are severely late on their student loan payments to "revolt"—to turn the billions they collectively owe from a burden into a source of political power.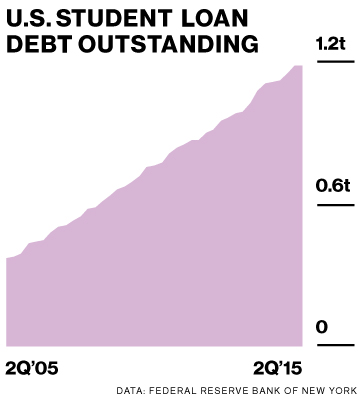 At the moment, the strategy is working. Amid inertia in the world of education finance, with total student debt balances now reaching $1.2 trillion, the Debt Collective has become a leading voice for student debtors, earning the respect of consumer advocates and state attorneys general alike. "It is quite an accomplishment to have gotten the department to this point," says Robyn Smith, an attorney with the National Consumer Law Center who's consulted with the group. The Debt Collective "has played a major role in keeping public attention on this issue and keeping the department's feet to the fire."
For a movement made up of delinquent borrowers, the Debt Collective is surprisingly optimistic about the role it can play. The group has roots in Occupy Wall Street, the protest that began in New York City's Zuccotti Park in September 2011. While camped out to spotlight bankers' misdeeds and wealth inequality in America, Larson began thinking about unionizing student borrowers. The activists she met tended to have educational debt themselves, and they realized their shared experience of unmitigated frustration and powerlessness could inspire a broad social movement.
After the police kicked Occupy out of the park in November 2011, Larson and another activist, Laura Hanna, spent two years buying and canceling $17.2 million of student loans, through a donation-funded campaign called the Rolling Jubilee. Their third partner, Astra Taylor, handled public relations—she was a minor celebrity in Occupy circles, for her occasional appearances with her husband's band, Neutral Milk Hotel, and as the maker of two documentaries about philosophy. The trio launched the Debt Collective on Sept. 17, 2014, three years to the day after Occupy protesters first assembled in Zuccotti Park. The date was "a little dog whistle," Larson says, "for the tons of people who became aware of social class that year."
By that point, Corinthian Colleges was flaming out. The company, with more than 70,000 students on 107 campuses across the country, was facing investigations into its recruitment practices and job placement rates by the Securities and Exchange Commission, the Consumer Financial Protection Bureau (CFPB), and several states. Corinthian has said the allegations against it are false and politically motivated. In June 2014, after the U.S. government suspended its payments of federal financial aid to Corinthian, the company collapsed. Even before the Debt Collective had officially launched, its members were agitating on behalf of Corinthian's hundreds of thousands of graduates. The group brought seven of the company's grads to a public hearing the Department of Education was holding in Anaheim, Calif., in November 2014; there, they demanded to know why they had to repay student loans to a tarnished school that the government had cut off from its financial aid spigot. In February 2015, the Debt Collective announced that 15 former Corinthian students were going on a student debt "strike," meaning they'd stop making their loan payments. "This public strike by the Corinthian 15 marks the beginning of a new era of debtor solidarity and collective disobedience," Luke Herrine, a New York University law school graduate working with the group, said at the time.
The declaration wasn't as revolutionary as it sounded. The 15 graduates were already striking in a sense—they were all either seriously late on their loan payments or had been granted forbearance, a grace period during which a debtor doesn't have to make payments. But from a political and marketing perspective, the strike was shrewd. One person behind on her loan payments looks like a failure; many such people banded together start to make a point. The blame should fall not on them, they can argue, but on a system that saddled them with unrealistic obligations. It's a play on the old maxim: "If you owe the bank $100, that's your problem. If you owe the bank $100 million, that's the bank's problem."
Convincing the public that broke borrowers are victims rather than deadbeats won't be easy. "Right now a lot of the mythology is that you can't pay your debt because you aren't working hard enough, or you made a mistake or are irresponsible," Larson says. "A lot of the challenge is changing how we think about debt and reversing some of the shame that people feel."
Corinthian alums didn't need much convincing. In the month after announcing the strike, Hanna says, the Corinthian 15 turned into the Corinthian 100, as the Debt Collective received a flood of requests to join the movement from former students.
On March 3, Larson and Hanna got a major break: an e-mail from Rohit Chopra, then the student loan ombudsman at the CFPB. He invited the activists to Washington to discuss "the burden of their federal student loans"—and said he'd happily invite "other federal agencies" to the chat. That was a big deal. While the CFPB was a young outfit, established by President Obama in 2011, other arms of the federal government were less receptive to Occupy Wall Street alumni. Chopra was offering to get the Debt Collective into the halls of power. "Reports by former students of strong-arm tactics by for-profit college employees often have frightening similarities," Chopra says, "which suggests that problems are not limited to a few bad apples, but stem from orders from headquarters."
The Debt Collective had spent months focused on an obscure provision in federal law called Defense to Repayment, which allows a student to submit a formal request for loan forgiveness if she can show her school violated state law. Before 2015, the Department of Education had received five such requests. At a meeting Chopra arranged in March, Debt Collective members delivered 250 written claims to Under Secretary of Education Ted Mitchell. "It was a huge step for us, actually getting a head officer to listen," Larson says. "Policymakers are making decisions behind closed doors, and they don't actually have to meet the people who are affected."
Mitchell agrees. "I think one of the dangers in policymaking is that you forget the impact of what you do on a day-to-day basis on real people, real lives," he says. "Those students' stories remind us both of what happened to them and of what we need to do to give them every opportunity to start over."
The Education Department announced its debt relief program in June; it's since received more than 4,000 requests for loan cancellation. Larson and the other Debt Collective activists remain disappointed with the program's scope—as do several state attorneys general. "We haven't seen enough from the Department of Education so far," says Massachusetts Attorney General Maura Healey, who sued Corinthian last year for misleading students. "It's taken too long, it's been too unwieldy, and so far we haven't seen any loans discharged."
Mitchell says debt relief will take time. "Creating a process for this is unprecedented," he says. It must be "fair to students and taxpayers." The Education Department, he adds, is still looking for ways to forgive federal loans on a classwide basis. The department has already made it easier for students who attended one Corinthian chain, Heald, to get relief as a class. It says it doesn't yet have evidence to prove that Corinthian subjected groups of students at its other two college franchises, Everest or Wyotech, to the same deceptive tactics.
Larson and Hanna say department officials should have gotten their hands on the results of Corinthian investigations years ago, as federal and state investigators compiled their long-running cases. That it's taken this long to hold Corinthian accountable is, for the activists, a clear sign that there's still much to do.
"It seems like what they respond to is mass numbers of angry students making demands, and that's the only thing," Larson says. There are a lot of potential recruits: Eight million Americans are in default on their student loans. "We are working on it, and they haven't heard the last from us."

Before it's here, it's on the Bloomberg Terminal.
LEARN MORE