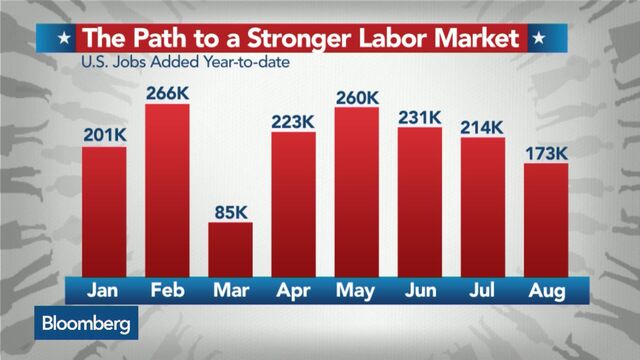 The September payrolls report is bound to be more thoroughly scoured than most. Coming amid a rout in financial markets and jitters about a global slowdown, it'll offer a window into how the U.S. labor market — the engine powering the world's largest economy — is faring.
Despite steady hiring in the U.S. this year, international risks threaten to dent growth and depress inflation, as Federal Reserve policy makers noted in September when they delayed raising interest rates. With the central bankers meeting again later this month, all eyes will be on how much the job-market scorecard bolsters the case for the Fed to move. Here's what to look for when the Labor Department releases the data on Friday at 8:30 a.m. in Washington:
Payrolls
Employers probably added about 200,000 workers in September, according to the median forecast in a Bloomberg survey of economists, after a gain of 173,000 in August. The average monthly advance so far this year is 212,000, a slowdown from last year's tally of 260,000 that was the best since 1999. 

The initial September print may suffer from the same "downward bias" as the previous month, according to analysts at Stone & McCarthy Research Associates. August and September payroll readings have each been revised up by the Labor Department in 12 of the past 14 years, they said in a note. Fr that reason, economists may dismiss a lower-than-projected reading, particularly if hiring in August is revised up.
All but 2,000 of the expected increase in payrolls is projected to come from private employment. September may show a fading of the temporary boost that government hiring recently received from state and local education jobs. Employment in local school districts rose by an average 21,000 in the three months through August, the largest surge over a similar period in eight years, according to Ted Wieseman, an economist at Morgan Stanley. 
In the past, such strength has "tended to be followed by some payback when the school year starts back up," Wieseman wrote in a note, predicting no change in total government payrolls in September after a 27,000 average gain from June to August.
Factory payrolls may show little change after a 17,000 drop in August that was the worst since July 2013, according to the Bloomberg survey median. The hit to manufacturing reflects weak exports and the lingering woes of energy-related industries. 
Unemployment Rate
The unemployment rate will probably hold at 5.1 percent, the Bloomberg survey shows, matching August as the the lowest reading since April 2008. It's inching closer to the 4.9 percent that Fed officials now consider consistent with maximum employment.
"Although other indicators suggest that the unemployment rate currently understates how much slack remains in the labor market, on balance the economy is no longer far away from full employment," Fed Chair Janet Yellen said in a speech last week.
Friday's report will also help shed more light on the extent to which the pool of labor is being underutilized. In her speech Yellen cited measures of slack such as part-time workers who would prefer full-time jobs and the participation rate, which shows a shrinking share of working-age people in the labor force. The latter probably held at a more than three-decade low of 62.6 percent in September. 

Wages
Economists will also be on alert for signs of a much-awaited pickup in worker pay. Average hourly earnings have been stuck in a narrow range around 2 percent since the expansion began in June 2009, even as the unemployment rate has fallen and payrolls are growing solidly.
"The labor market is on the threshold of an acceleration of AHE, but no compelling evidence has yet arisen," Ward McCarthy, chief financial economist at Jefferies LLC, said in a note.
Easier comparisons with a year earlier, when wages didn't budge between August and September, may have helped brighten the picture for last month. The Bloomberg survey median calls for a 2.4 percent advance in the 12 months ended in September, the most since August 2009.
Consumers are expecting some improvement too as the employment outlook strengthens, recent confidence surveys show. 
Before it's here, it's on the Bloomberg Terminal.
LEARN MORE