Separatists of the World, Unite!
Ultranationalists, too, can join Putin's anti-U.S. crew.
By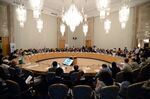 During the Cold War, the Soviet Union provided arms, money, and intelligence to a global network of political groups that helped promote its agenda and undermine the West. Since the start of the war in Ukraine, the Kremlin has been doing something similar. It's been on a charm offensive aimed at the radical right and left in dozens of countries.
Proxy groups for the Kremlin host these fringe political parties at lavish conferences in Russia and elsewhere to build a sense of unity, stoke anti-American sentiment, and rally support for Russia's policies in Ukraine. At a September conference for mostly left-wing separatists in Moscow, obscure Puerto Rican and Hawaiian independence activists mingled with Northern Irish republicans, Catalan radicals, and rebels from eastern Ukraine. Held in a government-owned luxury hotel, the conference was organized by the Russian Antiglobalist Movement, which is supported in part by the government.
Sporting a cowboy hat, Ramon Nenadich of Puerto Rico told participants that he represented the island's "provisional government," which doesn't recognize U.S. sovereignty over the island. He called the U.S. "the cause of misfortune" in his land. Omali Yeshitela, who is based in Florida and represents the pan-African Uhuru Movement, demanded that the international community recognize "the right of African people to armed self-defense against American imperialism." The movement seeks the economic and political liberation of blacks worldwide.
Sean Carlin, a former member of the Irish National Liberation Army (a post-IRA militant group), said he was glad that Russia, after a post-Cold War hiatus, was again taking the lead in countering the U.S. "Russia is trying to reestablish links with left-wing and separatist movements it used to maintain in the past, because you can see what the West is doing in the Middle East and southeast Europe" (he means Ukraine). Carlin spent eight years in prison after he was convicted in Belfast for kidnapping and illegal arms possession. He says the case was politically motivated.
Fyodor Biryukov, a top official in Rodina (Motherland), a far-right Russian party, spoke at the conference. He compared the U.S. government to a "gang of vampires sucking blood from its own people and the rest of the world." The audience burst into applause when he said, "We need to pierce American vampires with an aspen stake."
Biryukov also spoke at a conference held for far-right politicians in St. Petersburg last spring. Participants included parliamentarians from Greece's ultra-right-wing Golden Dawn party and Nick Griffin, former leader of the anti-immigrant British National Party.
Biryukov says he sees no contradiction in reaching out to the extreme opposites of the political spectrum: "We should welcome everyone who opposes Washington. The division into right and left is obsolete." He also says he doesn't mind inviting separatists, despite Russia's own problems in Chechnya, where militants fought two bloody wars with the Russians in an effort to win independence. "Separatism is just a tool, like a handgun. It's only important who holds it," says Biryukov.
Anton Shekhovtsov, an expert in right-wing movements at London-based public policy researcher the Legatum Institute, says support of the radicals helps promote the Kremlin line about Ukraine, Syria, and other crucial issues; legitimizes the government in the eyes of Russians by hosting these foreign friends of Moscow on Russian television; and undermines Western liberal democracy. Putin's regime would be happy to work with more mainstream, openly pro-Russian politicians such as former Italian Prime Minister Silvio Berlusconi, says Shekhovtsov, "but there are fewer and fewer of them these days." Berlusconi recently went with Putin to Crimea, defying the European Union's rejection of Russia's annexation of the peninsula.
Biryukov says Russia's most powerful ally in Europe is the newly formed European Alliance for Freedom, a party that unites the continent's right-wing, anti-immigrant, and Euroskeptic groups. The flagship of the alliance is France's National Front, which last year got a loan of €9 million ($10.1 million) from a small Russian bank. Russia's Ukrainian policies get vocal support from the party's leader, Marine Le Pen. Biryukov also says Russia values Jobbik, a major Hungarian right-wing party that may one day be part of the government of that EU member state. Says Vladimir Frolov, a Russian political analyst: "The main objective is to destroy the consensus on Russia in Europe and promote the Russian narrative on global issues."
The bottom line: The Kremlin is building a network of fringe groups to support its policy in Ukraine and fan anti-American sentiment.
Before it's here, it's on the Bloomberg Terminal.
LEARN MORE