After 16 Years, U.S. Navy's Underwater Mine-Hunting Drone Still Falls Short
by
Navy's next purchase of drone depends on improving reliability

`Remote Minehunting System' for use on Littoral Combat Ship
Lockheed Martin Corp. has more than $700 million at stake in convincing the U.S. Navy it can remedy flaws in new underwater drones intended to hunt down mines from a safe distance.
Rigorous testing required for approval of a new combat system was postponed in July after evaluations found five mission "failures that impacted reliability" in 195 hours of operations, according to the Navy's Sea Systems Command. That performance, "specifically in a very short operating time span, is cause for concern, and the Navy is working to rectify" the problems, according to Christopher Johnson, a spokesman for the command.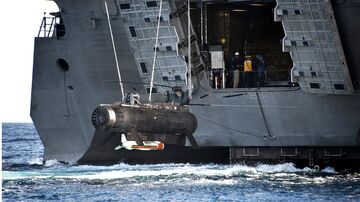 The Navy has spent $108 million so far to develop and buy the first eight of Lockheed's "remote multimission vehicles." It plans to spend as much as $868 million for a total 54 of the underwater drones. The next contract, for as much as $400 million for 18 more of the unmanned vessels, could come in February if the drone passes delayed combat testing that may begin in November.
Flaws with the Lockheed drone and the system it's part of have been laid out publicly in recent weeks in a detailed memo by the Pentagon's test office and by Senate Armed Services Committee Chairman John McCain.
Raytheon Sonar
Paired with a mobile sonar made by Raytheon Co., the drone is to provide the Navy's new Littoral Combat Ship with a "Remote Minehunting System" allowing it to spot underwater explosive devices without sailing near them, as current Avenger-class minehunting ships must do.
Navy leaders envision minehunting as the primary mission of the first 32 Littoral Combat Ships it's approved for purchase. The capability is considered particularly valuable in the Persian Gulf, where naval intelligence officers estimate that Iran has as many as 5,000 naval mines. Versions of the ship, which has faced its own issues of reliability and vulnerability to attack, are made by Lockheed and Austal Ltd.
The first Remote Minehunting Systems were to have successfully completed combat testing this month and be declared ready for initial combat operations until the reliability issues prevented that.
"We are confident that these are known issues with corrective action plans in place" as the time extension "allows for additional testing to ensure the ship and systems can deliver sustained, repeatable performance," Johnson of the Sea Systems Command said in an e-mail.
Lockheed's Response
Lockheed spokesman Joseph Dougherty said the company "continues to work closely with the Navy."
"Specifically we are improving maintenance procedures by adding inspection checkpoints to avoid potential issues," he said in an e-mail. "While we acknowledge the challenges encountered during the evaluation, it's crucial to recognize that the" overall system "exceeded or met key performance parameters during a Navy-led development test conducted in early 2015," he said.
The $400 million contract that may come in February would provide $245 million for the next 18 drones plus $155 million in development, engineering and sustainment costs.
'Most Wasted'
McCain, an Arizona Republican, and Jack Reed of Rhode Island, the Senate Armed Services panel's top Democrat, flagged the issue in an Aug. 31 letter to Pentagon and Navy officials. McCain also featured it in a Sept. 3 report in what he calls his "America's Most Wasted" series on flawed and wasteful weapons systems.
The headline on the report issued by McCain: "Indefensible: $706 million and 16 years developing a Navy minehunting system that doesn't really work."
Michael Gilmore, the Pentagon's director of operational testing, wrote in his Aug. 3 memo that several years of development testing "provides no statistical evidence" the total system "is demonstrating improved reliability and instead indicates that reliability plateaued nearly a decade ago."
While McCain and Reed urged Pentagon and Navy officials to consider alternatives to the minehunting system, Lockheed's Dougherty said "alternatives would take up to five years and significant investment to reach the same readiness and integration to achieve the performance demonstrated by" the system using the Lockheed drone today
Before it's here, it's on the Bloomberg Terminal.
LEARN MORE