Lloyds Head of FX Products Henrikson Said to Exit by Year End
by
Anders Henrikson said to be replaced by Rob Hale in London

Henrikson departure said to be unrelated to Carlier case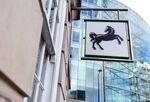 Lloyds Banking Group Plc's head of foreign-exchange products, Anders Henrikson, is leaving the lender by year end after fewer than three years in the role, according to two people with knowledge of the matter.
He will be replaced by Rob Hale, head of interest-rate swaps, one of the people said. Both of them asked not to be identified because the details are private. Henrikson became head of foreign-exchange products in March 2013 after joining the bank in 2008, according to the lender's website. He previously worked at Citigroup Inc. in London and New York. Henrikson declined to comment.
Lloyds said in a statement that "this represents several new opportunities for our senior leadership team" and the bank's strategy remains unchanged.
Henrikson was a witness in September in a case filed by Paul Carlier, a former foreign-exchange trader at Lloyds. Carlier said he was "targeted" by the bank after blowing the whistle on improper trading, an allegation that Henrikson denied in his witness statement. Henrikson's departure is unrelated to the Carlier case, according to one of the people.
Before it's here, it's on the Bloomberg Terminal.
LEARN MORE