Hurricane Joaquin May Miss U.S. Coast After Pounding Bahamas
by and
Latest computer models show the storm heading out to sea

Bahamas battered by high winds, storm surge and heavy rain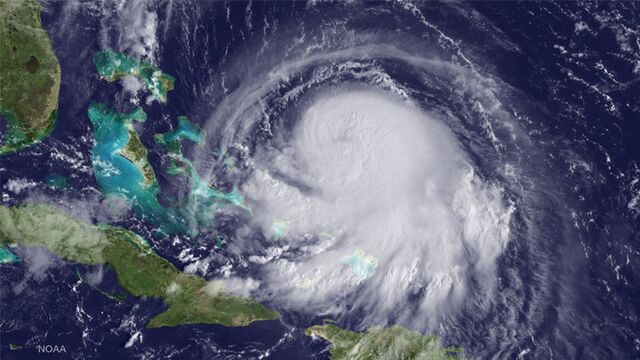 It is increasingly likely that Hurricane Joaquin will remain offshore in the Atlantic, missing the U.S. East Coast entirely, the National Hurricane Center said as the dangerous Category 4 storm pounded the Bahamas with wind, rain and high seas.
Joaquin brought top winds of 130 miles (210 kilometers) per hour to parts of the Bahamas and the battering will last through Friday, the center in Miami said in a 8 a.m. advisory. The storm was 30 miles northeast of Clarence Town on Long Island in the Bahamas and was moving northwest at 3 mph.
The center was uncertain how close the storm could get to Bermuda, New England or Nova Scotia as it moves north through the Atlantic next week.
"Joaquin's slow motion means that extremely dangerous conditions will continue over portions of the warning areas in the Bahamas today," senior hurricane specialist Michael Brennan wrote in a forecast analysis. "The forecast models continue to indicate a track offshore of the United States east coast from the Carolinas to the mid-Atlantic states, and the threat of direct impacts from Joaquin in those areas is decreasing."
Over the course of Thursday, more forecast models began predicting the storm would stay away from the U.S., and the hurricane center changed its track prediction.
"This is probably going to be a non-issue," said Gary Best, a meteorologist at Hometown Forecast Services in Nashua, New Hampshire. "It's a little bit early, but what we are seeing now looks pretty good."
'Bullish' Outlook
"I'm fairly bullish on the storm staying off shore," Todd Crawford, principal scientist at WSI in Andover, Massachusetts, said Thursday. "Probably 80 percent chance."
Michael Schlacter, at Weather 2000 Inc., said he wasn't as optimistic. The storm's drift to the south and west could raise the possibility the models will change or that the system would be too close to the U.S. to miss completely.
"I still contend we have to wait and see when and how this southwesterly drift stops," Schlacter said Thursday. "You are not going to be able to tell your forward speed and what influences are going to bounce it this way and bounce it that way until it starts moving north."
The government of Cuba issued a tropical storm warning for the provinces of Camaguey, Los Tunas, Holguin, and Guantanamo. Islands across the Bahamas were also under hurricane warnings and watches. Grand Bahama Island, Eleuthera and Mayaguana were among those covered by the warning. Joaquin is an "extremely dangerous" storm, the center said.
Heavy Rain
As much as 12 to 18 inches (30 to 46 centimeters) of rain may fall across the central Bahamas, and in isolated cases as much as 25 inches, which could cause life-threatening flash floods. A storm surge may raise seas as much as 8 feet above normal tide levels, with dangerous swells and rip currents being forecast across the chain, as well as in the southeastern U.S., according to the center.
Joaquin's winds may peak at 140 mph, which would still be in the range of a Category 4 storm, the second-most powerful on the five-step Saffir-Simpson scale.
The U.S. hasn't been hit by a major hurricane, Category 3 or stronger, for 10 years. Sandy, which struck New York and New Jersey in October 2012, was only a Category 1-strength storm.
In the meantime, preparations were under way for a possible disaster.
N.Y. Prepares
New York Governor Andrew Cuomo placed 3,000 National Guard members on standby for deployment as the Metropolitan Transportation Authority positioned pumping equipment and generators if needed by subways and mass transit. Cuomo said the state is better prepared than it was for Sandy.
"There's no comparison to where we were before," he said Thursday. "I just don't want to get arrogant or cocky because I've been knocked to the ground a couple of times by Mother Nature."
In addition to the hurricane threat, the eastern U.S. from New Jersey to Georgia is forecast to receive heavy rains through the next seven days, the U.S. Weather Prediction Center said. Almost 20 inches is forecast to fall in South Carolina and western North Carolina.
Flood and flash flood watches stretch from New Jersey to Georgia and touch parts of Tennessee, Kentucky and West Virginia, the National Weather Service said. At least one person died in South Carolina due to flooding, according to the Associated Press.
"In the Carolinas, this could be historic flooding," said Tom Kines, a meteorologist with AccuWeather Inc. in State College, Pennsylvania. "It is a dangerous situation there for North and South Carolina, and this is without Joaquin."
Strong onshore winds have prompted coastal flood advisories from Massachusetts to South Carolina, according to the weather service. The risk of shoreline flooding will increase if Joaquin nears the East Coast, even if it fails to come ashore.
Before it's here, it's on the Bloomberg Terminal.
LEARN MORE