politics
Jeb Bush's Recent Converts Are Investing for the Long Term
A hefty war chest and stream of grassroots support has Bush team banking on the long run.
By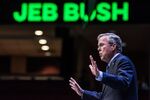 It's been almost two months since Jeb Bush was atop a Republican presidential poll in New Hampshire or South Carolina. He's never quite been the top choice in Iowa. He's fifth in a pair of national polls this week.
But those numbers aren't keeping Bush from picking up supporters around the country in the scramble to scoop up men and women from recently folded presidential campaigns. A significant share of Scott Walker's former team is backing the son and brother of former presidents, and the head of Rick Perry's super-PAC is now helping Bush raise money. The campaign has also expanded its grassroots teams in Iowa, South Carolina, and Nevada, and announced new supporters in Virginia, Alabama, Massachusetts, and Florida. 
Interviews with recent additions to the Bush team show that the former Florida governor is selling the campaign, at a time when he's at his lowest point in the polls, on the ability to outlast the insurrection within the Republican Party that has lifted Donald Trump, Ben Carson, and Carly Fiorina. Bush has also told these new supporters that he's clear-eyed about where he needs to make improvements. 
"He's probably gotta drink more Red Bull, but I do think he's going to get there," said New York hedge fund manager Anthony Scaramucci, a member of Walker's finance team who took a similar position with Bush after a pair of conversations with the candidate in the past week. "Jeb Bush has the horses behind him."
Tarred as low-energy by Trump's insult machine, Bush has become more animated on the campaign trail but hasn't veered from his campaign's strategy, supporters said. Bush rolled out a series of policy proposals this month and still portrays himself as the candidate who can persuade voters to the Republican Party, an approach that tends to make him appear more professorial and less of the firebrand that many primary voters seem to prefer this year.
Still, the 62-year-old Bush has tried to deliver his stump speech with more voltage.
While CNN and MSNBC aired portions of Trump's Wednesday speech live from Keene, New Hampshire, Bush spoke forcefully at townhall 50 miles away in Bedford about cutting regulations and reversing President Obama's foreign policy.
"If you're looking for the big guy on the stage talking in the first-person singular—I, I, I, me, me, me, it's all about me—man, I'm not good at that," Bush said. "It's not my motivation. It's not how I was brought up. My mother would whack me across the ears, probably, if I started doing that. That's not me. But if you're looking for someone who actually cares about people rising up, that has the kind of energy, passion and conviction to be on the side of people that are really struggling right now, I'm you're man."
Oklahoma Attorney General Scott Pruitt, who was announced this week as Bush's national chairman of federal-state relations, pointed to the former governor's more measured approach as a reason for his endorsement.
"As I've sat down with candidates over the past few months, I've been impressed by his earnestness and interest in restoring the proper balance between Washington and the states," said Pruitt, a former president of the Republican Attorneys General Association. "There needs to be humility in the White House, instead of hubris." 
Austin Barbour, a Mississippi Republican who signed on with Bush after Perry bowed out, said the "topsy-turvy" election cycle diluted the usefulness of early polls. "One thing I feel very confident about is that none of the three never-electeds will be our nominee," Barbour said about Trump, Carson, and Fiorina. "I just don't see how that's possible."
Few voters have been seriously thinking about the presidential campaign, said Barbour, who is helping Bush raise money and organize his political team. He pointed to the Iowa caucus results in 2008 and 2012, when Mike Huckabee and Rick Santorum "came from nowhere" to win.
At this point in the polls four years ago, Perry was the top choice for the Republican primary nomination, which Mitt Romney eventually won. Eight years ago at this time, before John McCain won the nomination, Rudy Giuliani was setting the pace.
"If Bush doesn't see numbers go up in two weeks, no one is jumping off a bridge," Barbour said. "Voters in Iowa take a long time to make their decision. I suspect New Hampshire and South Carolina it's the same thing. These are savvy voters, and it's going to take some time."
Terry Kilgore, one of Walker's Virginia co-chairmen, said that he signed up with Bush based on the former governor's conservative record and an energy policy that he said would help the coal workers in Virginia.
"This race may come down to three people, and it may be decided at the convention," Kilgore said. "Jeb has the staying power to be in the best position."
Before it's here, it's on the Bloomberg Terminal.
LEARN MORE