Glencore's Credit Rating at Risk If Commodity Slump Doesn't Stop
by
Commodities trade below S&P, Moody's ratings assumptions

Glencore at second-lowest investment grade at S&P, Moody's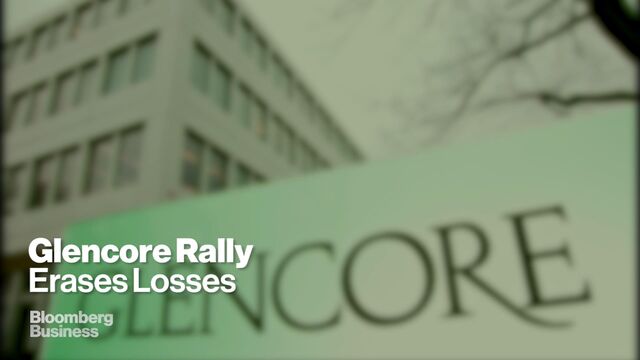 Glencore Plc is doing everything from selling assets to ditching the dividend to retain its credit rating, but there's one big thing the company can't control: commodity prices.
Metals prices such as copper and nickel underpin models that Standard & Poor's and Moody's Corp. use to determine Glencore's creditworthiness and currently prices are below their assumptions. While the company earlier this month unveiled a $10 billion debt-reduction plan, the ongoing slide in commodity prices poses a challenge to its credit metrics, according to analysts at the ratings firms.
"Are the measures enough? Yes, in the sense that we've affirmed the rating but clearly there is a scenario where commodity prices remain very low for a long time," Simon Redmond, a London-based analyst at S&P, said in an interview. "Some commodity prices are currently below our assumptions and that is going to put some headwinds in terms of an improving trajectory."
Credit Ratings
Preserving its credit ratings, the second-lowest investment grade at S&P and Moody's, is critical to Glencore's business model because the company borrows heavily to sustain trading operations, which account for almost a third of earnings. To bolster its balance sheet, Glencore has hired banks to sell a minority stake in its agricultural business and is planning to sell future production of gold and silver, according to people familiar with the deals.
S&P's assessment of Glencore rests in part on copper at $2.40 a pound this year for a BBB rating. Moody's Baa2 rating is based on $2.50 a pound. The metal, which makes up 28 percent of Glencore's earnings, currently trades at $2.33 a pound. Coal, zinc and nickel are also priced below the assumptions.
Ratings companies rely on average prices over the medium-to-long term to make their judgement and there are many factors within Glencore's control that can be used to reduce debt. Both S&P and Moody's said earlier this month that Glencore's plan to cut debt was a positive sign and affirmed the current ratings.
'Good Liquidity'
Glencore spokesman Charles Watenphul declined to comment beyond Tuesday's statement, which said the company has "positive cash flow, good liquidity and absolutely no solvency issues."
Glencore will likely keep the investment-grade rating because S&P and Moody's will probably provide a "grace period" to complete the asset sales and restructuring, JPMorgan Chase & Co. analysts said in a report. Even if commodity prices stay the same, the company can mitigate the concern around its credit rating and meet its debt-reduction goals, they said.
"Although, we do not expect an imminent formal downgrade by the agencies, equity markets will likely continue to price the impact of a downgrade," unless commodity prices improve or the company accelerates the process of reducing its debt, according to the note from JPMorgan.
Given the level of commodity prices now, the company will need to increase its debt-reduction target by $4 billion on top of the $10 billion already planned, Macquarie Group Ltd. analysts wrote in a report this week.
Equity Collapse
While the stock plummeted 29 percent on Monday, it recouped much of the loss since then after the company said it's in the process of reducing debt and has no solvency issues. The shares lost 1.2 percent to 90.50 pence by 3:32 p.m. in London and are down about 70 percent this year.
Both S&P and Moody's have a negative outlook on their ratings, implying a higher risk of downgrade than upgrade, due to the risk commodity prices will be below their assumptions for an extended period of time.
"The market remains very difficult and that's why we assign a negative outlook, to highlight the market risk," said Elena Nadtotchi, a London-based analyst at Moody's, in an interview.
To maintain S&P's BBB rating, Glencore needs the ratio of its funds from operations to gross debt, or FFO, to stay between 23 percent and 28 percent over the medium term. It was about 20 percent at the end of June, the most recent data available, according to S&P.
"Given the various measures they've announced, they should see metrics strengthening towards the top of the range" by next year, Redmond said. Yet low commodity prices "could result in FFO to debt being below the 23 percent for a period of time, which could potentially lead to a downgrade."
S&P's rating assumes:
Copper at $2.40 a pound for the rest of 2015 and 2016

Nickel at $5.00 a pound for the rest of 2015 and 2016


Moody's base commodity-price assumptions for miners including Glencore are:
Copper at $2.50 a pound for 2015, $2.35 for 2015

Nickel at $5.25 a pound for 2015, $4.80 for 2016

Newcastle thermal coal at $62 a ton for 2015, $60 a ton for 2016

Zinc at $0.85 a pound for 2015, $0.80 for 2016


Market prices as of Sept. 30:
Copper at $2.34 a pound

Nickel at $4.69 a pound

Newcastle thermal coal at $54.50 a ton
Zinc at $0.76 a pound


Peter Grauer, the chairman of Bloomberg LP, the parent of Bloomberg News, is a senior independent non-executive director at Glencore.
Before it's here, it's on the Bloomberg Terminal.
LEARN MORE