Glencore Debt Swaps Normalizing Shows Imminent Credit Risk Eases
By
Five-year CDS exceed one-year swaps for first time this week

Credit-default swap prices for all maturities remain elevated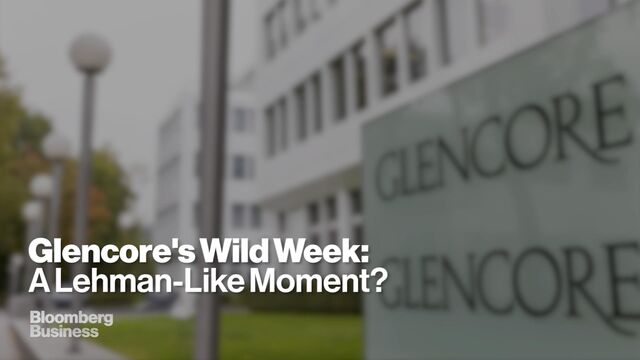 For the first time this week, the cost of insuring against default on Glencore Plc's debt for one year is cheaper than buying protection for five years.
The reversal is a sign that credit risk may be normalizing after a roller-coaster week in which the cost of short-term derivatives surpassed longer-dated contracts. A so-called inverted yield curve is a market distortion that typically happens when investors are concerned they may not get their money back in the near term.
The trader and miner's one-year credit-default swaps fell to 60 basis points less than five-year swaps, after exceeding them by as much as 277 basis points, according to data from S&P Capital IQ's CMA. Prices for all contracts remain elevated after a record selloff on Monday, triggered by concerns that the company has too much debt to withstand slumping commodity prices and cooling demand from China.
"It looks like Monday's meltdown may give way to a much calmer trading period in the near term," said Craig Veysey, the London-based head of fixed income at Sanlam Private Wealth, part of the Sanlam Group, which manages about 40 billion pounds ($61 billion) of assets. "Investors will still scrutinize Glencore's trading updates to gauge the financial health of the company. One should remain cautious generally, given the risks emanating from a slowdown in China."
One-year credit-default swaps cost 679 basis points and five-year swaps cost 739 basis points at 6:10 p.m. in London. The company's bonds also showed signs that imminent concerns are easing. Its 750 million euros ($837.5 million) of bonds due March 2025 were little changed at 72 cents on the euro and its 500 million euros of notes maturing April 2026 were little changed at 77 cents, according to data compiled by Bloomberg.
Glencore met bondholders this week and sought to reassure investors as analysts at banks including JPMorgan Chase & Co. said the slump left the company undervalued. Glencore said in a statement on Tuesday that the business is financially robust and has no solvency issues. 
Glencore outlined plans this month to sell shares and assets as it seeks to reduce its $30 billion debt pile by about a third. Chief Executive Officer Ivan Glasenberg told staff on Tuesday that the plan is sufficient, there is about $13.5 billion of available liquidity and the company "will emerge even stronger."