business
Glencore Slides as Recovery Fades After Three-Day Roller Coaster
By and
Stock gives up daily gains that had wiped out Monday's crash

Company leaves `no stone unturned' to try to pay down debt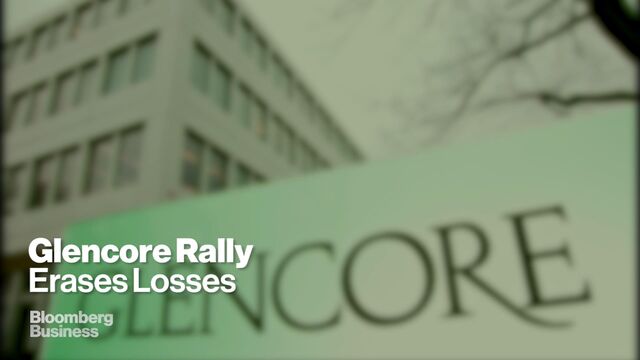 Glencore Plc's rebound ran out of steam after an ascent that briefly recouped the $6 billion in market value it lost Monday.
The shares lost 0.6 percent to close at 91.02 pence in London after earlier gaining as much as 8.2 percent. Trading was halted for five minutes because of increased volatility.
Glencore has endured a roller-coaster week with unprecedented volatility for a company that went public in 2011 at 530 pence a share. The mining and trading firm sank 29 percent on Monday to 68.62 pence on concern over its debt load and ability to withstand sinking commodity prices. It spent most of the rest of the week recovering those losses as investors spied a bargain.
Glencore sought to reassure investors on Tuesday, saying it had "absolutely no solvency issues" and its funding was secure. It also aims to raise more than $1 billion selling future gold and silver output, according to two people familiar with the situation.
No Stone
"It seems the company is now leaving no stone unturned in order to pay down debt," Investec Plc said in a note to investors on Thursday. "Maybe the quiet voice of reason is beginning to be heard." The same investment bank on Monday had said there would be little value left for Glencore's shareholders should low commodity prices persist.
Chief Executive Officer Ivan Glasenberg is working on a debt-cutting plan including sales of assets, halting dividends and a $2.5 billion share sale completed last month. Glencore hired banks to sell a stake in its agricultural business, said people familiar with the deal.
Credit-default swaps insuring Glencore's debt for five years rose to 727 basis points from 679 on Wednesday, according to S&P Capital IQ's CMA, indicating the securities are more risky.
"We don't see the need for the company to approach debt markets at least till 2017," Citigroup Inc. analyst Heath Jansen, who has a buy rating on the stock, wrote in a report on Thursday. Glencore has total liquidity of more than $12 billion, he said. 
Tony Hayward, the company's chairman and the former CEO of BP Plc, bought 100,000 shares priced at 91 pence each, according to a filing on Wednesday. John J. Mack, a director of Glencore and the former chief executive officer of Morgan Stanley, bought 550,000 shares at 80.78 pence each on Tuesday, a separate filing showed.
$85 Billion
At its height in 2014, Glencore was worth more than $85 billion after its $29 billion all-share takeover of Xstrata Plc, then the world's biggest coal exporter. Now, the market value has shrunk to about $20 billion as investors fled the business, which carries more debt than its rivals to fund its trading operations.
The company, based in Baar, Switzerland, trades everything from wheat to oil to cobalt. It's the biggest exporter of power-station coal, with more than 30 mines in Australia, Colombia and South Africa and is among the top three agricultural exporters in Russia, the European Union, Canada and Australia. It also controls more than 150 mining and metallurgical, oil production and agricultural assets and employs about 180,000 people.
Peter Grauer, the chairman of Bloomberg LP, the parent of Bloomberg News, is a senior independent non-executive director at Glencore.
— With assistance by Sally Bakewell, and Katie Linsell
(Updates with closing share price in second paragraph.)
Before it's here, it's on the Bloomberg Terminal.
LEARN MORE